Are you going the wrong weigh?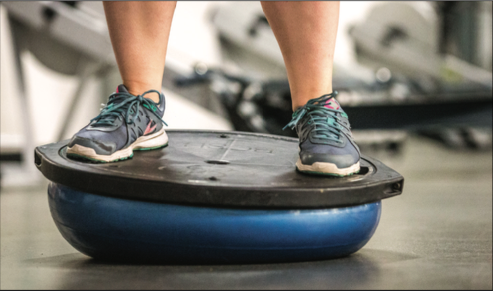 As 2017 begins, many people have made New Year's resolutions to become healthy. Students at Liberty University can achieve this goal through a combination of exercise and healthy eating.
"When starting a new semester, there is an element of excitement in the 'fresh start' — this is great motivation when starting a fitness routine, but the key is sustainability," Heather Gaunt, associate director of fitness and programming, said. "To keep this excitement throughout the semester, make small goals that help you have small victories throughout the year. … This will keep the motivation flowing, and you will have more goals to look forward to."
According to Gaunt, a student should block out times for exercise, academic classes, meals and leisure time at the beginning of the semester.
"Schedule your workouts and your exercise as if you're scheduling a class," Lydia Marchesani, Liberty's Recreation Centers personal training manager, said. "Put it on your calendar as if it's a class that you have zero skips for and an appointment with yourself that you can't cancel."
Marchesani said students should not try to do everything at once, but should instead start with small things each day and add on to those goals.
According to Gaunt, the Recreation Center offers a variety of group exercise classes open to students, faculty and staff. A few of these classes include Pilates, yoga, Zumba, barre sculpt, abs, cycling and hip hop. Personal trainers, whose plans vary in difficulty from tiers 1-3 are also offered to individuals, partners and groups.
"I recommend trying any group exercise class that looks interesting to you," Gaunt said. "…. (I) highly recommend our personal trainers and their high level of professionalism and skill."
Rachel Sanders, Liberty's campus dietitian, said there are plenty of options on campus for a student to eat healthily. According to Sanders, the Reber-Thomas Dining Hall has a variety of foods so that students have a number of accessible, healthy options to choose from.
The dining hall has different stations such as the Wellness Zone and the salad bar — often with locally-grown produce — Simple Servings, and the Training Table, Sanders said.
"In the Wellness Zone in Reber-Thomas, I've enjoyed … all of their salad combinations and even their hummuses that they make … to give variety," Sanders said.
Another place on Liberty's campus that holds healthy food options is Natural, a juice bar in the Tilley Student Center, which offers smoothies free of added sugars and preservatives. Sanders said this is a better option than getting an empty-calorie meal at one of the other dining locations.
Sanders said a proper meal should include half a plate of fruits and vegetables, one-fourth a plate of lean protein, and one-fourth a plate of complex whole grain. According to Sanders, while students should aim to eat well, they should also not restrict themselves from enjoying the occasional unhealthy treat.
"It's realistic to treat yourself every now and then," Sanders said. "You don't want to completely deny yourself if you're really craving something."
Guant said the Recreation Center offers plenty for students to participate in on campus that contributes to the student's emotional, spiritual, physical and social well-being.
"We try to offer to our students the holistic view of health as something that's going to be sustainable and lifelong," Marchesani said.
Ramey is a feature reporter.