Coming from a pro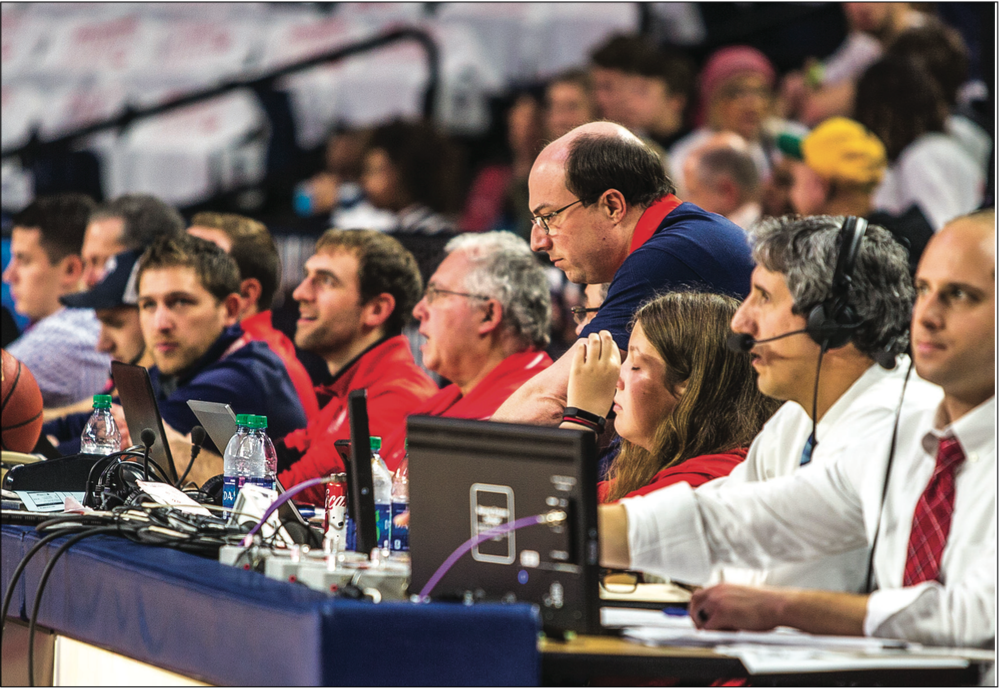 Head of Athletics Communications visits class
On Jan. 20, Todd Wetmore — Liberty's associate athletics director for communications — talked to students in a sports journalism class about the importance of sports journalism and the steps needed to excel in the field.
The Liberty graduate spoke of his 15 years of experience as the head of the Liberty University Office of Athletics Communications Department.
In addition to overseeing the entire department, he also works as the primary media contact for both the football and golf teams.
"Our job is to make (journalists) look good," Wetmore said.
He explained how he does this by preparing and doing the research for the media.
This involves compiling statistics and packets of information about the teams and upcoming matchups.
Wetmore gave advice to the students who are looking to pursue an occupation in sports media while also acknowledging those who are seeking jobs in other fields of media.
For the students not necessarily interested with pursuing sports journalism, Wetmore suggested that they continue in the sports communications class to broaden their horizons.
He mentioned the fact that any reporter working in a news room will at some time cross over into the athletic world.
Thus, knowing how to deal with coaches and athletes is integral as it requires a different approach and different jargon.
When asked how to succeed in the sports communications environment, Wetmore advocated for getting involved and developing relationships with both public relations personnel as well as becoming familiar with coaches and players.
"Get outside of the classroom," Wetmore said.
He spoke of opportunities where students could volunteer and get involved, such as becoming a student worker or simply contacting a staff member and asking to shadow their position.
It is no wonder that he stressed the importance of practical learning, as this is how he got his start.
He began his career by volunteering at Sports Information when he was a freshman at Liberty.
Assisting Wetmore in his department are five other staff members, each responsible for keeping up with the latest information about all of the Flames athletics teams.
Among the staff is Bill Smith, a fellow media contact.
Smith provided advice which echoed Wetmore's statements about the importance of creating relationships and listening to and learning from others.
"Build relationships with coaches and student athletes and invest in their programs," Smith said.
"Building relationships shows the teams that you really care about their program."
Smith is a graduate assistant in the Athletics Communications Department.
He is the media contact for field hockey, women's lacrosse and men's and women's tennis.
Because of the changes in media, Wetmore said that a great deal of time was devoted to updating and modernizing the Liberty Athletics web page.
He emphasized the importance of doing research before interviews which could certainly be done by utilizing the information located on the school's website.
The sports industry has not always been easy for journalists to navigate because of the large amount of information on the Internet.
The Liberty Athletics website helps writers by making records and statistics available.
"Attention spans have changed," Wetmore said.
"We are seeing a lot more video, audio and social media content."
He went on to discuss the importance of keeping up with the times because of the drive for constant coverage.
People want to know what happened, and they want it immediately.
"The way people consume sports nowadays has completely changed," Wetmore said.
"We live in an ever-changing world where people prefer video to 1,000-word stories."
Smith also had a lot to say about the changes in the way sports are presented because of the growth of social media.
However, even with the changes in the way sports are communicated, the traditional way of writing articles can still be appreciated.
"There is something to be said still about a game recap article," Smith said.
"Coaches and student athletes still want to read a game recap highlighting what happened in the contest."
Copeland is a sports reporter.