Claiming the capital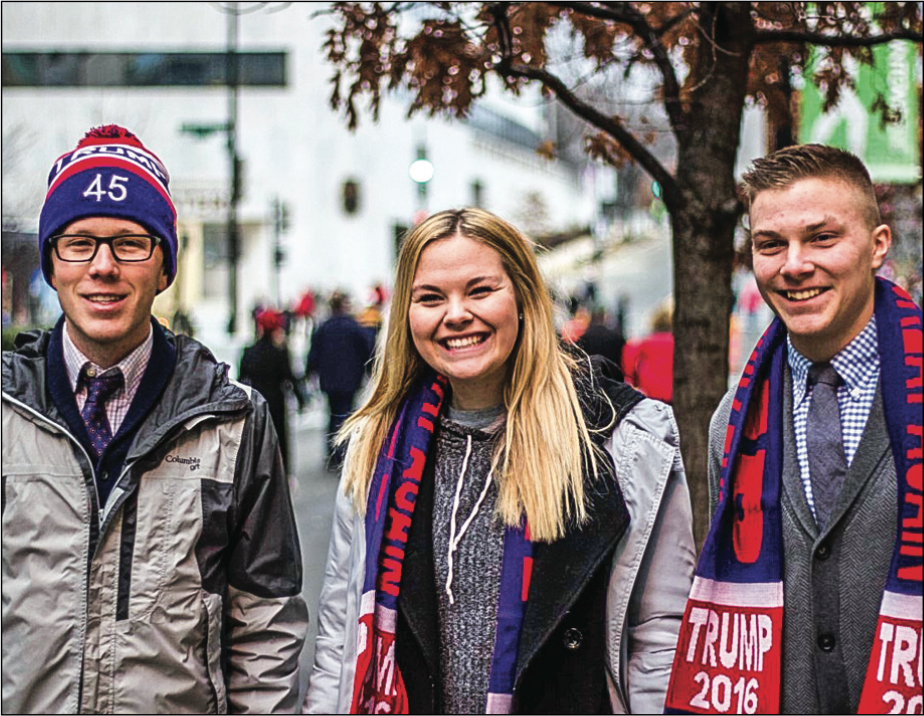 Liberty students attend President Trump's inauguration
Hundreds of thousands of people flooded Washington, D.C. for the inauguration of President Donald J. Trump, inaugural festivities and protests Jan. 19-21, marking the weekend as a historic and controversial time in American history.
Inaugural events kicked off Thursday, Jan. 19 with the "Make America Great Again! Welcome Celebration" featuring Toby Keith, 3 Doors Down and Lee Greenwood, among other artists.
Unofficial activities hosted by various groups also drew thousands of people into the city.
"I've been to D.C. a couple of times before, but coming for the inauguration, there is a unique sense of optimism and hope here," Liberty University freshman Taylor Redd said.
"People are excited. People are hopeful. People are walking around gleaming and glowing. I think people are excited to see the changes that are going to be taking place."
Thursday's welcome rally served as a catalyst for Friday's activities.
There is not an exact count of the total attendance, but the Washington Metropolitan Area Transit Authority recorded 570,557 Metro rides the day of the swearing in ceremony, according to the Washington Post.
Liberty also played a role in the inauguration.
LU Praise, the university's gospel choir, performed two songs at the prayer service for the president, vice president and first families at Washington National Cathedral.
The invitation resulted from a conversation between Liberty University President Jerry Falwell and Vice President Mike Pence a few weeks ago.
In addition, President Falwell spoke and read one of his favorite passages of scripture, Matthew 6:5-13, at a private ceremony held at St. John's Episcopal Church attended by the Trump and Pence families, the President's new Cabinet and former President Jimmy Carter and Mrs. Carter.
"We are just honored and humbled that Liberty had such a prominent role in such an important event for our nation," Falwell said in a news release from the Liberty University News Service.
After the private service at St. John's, Trump joined the Obamas for tea at The White House before heading to the Capitol for the swearing in ceremony, which commenced at 11 a.m. Jan. 20.
By noon, both Trump and Pence dropped the term "elect" from their titles and officially became president and vice president, respectively.
"I'm excited … because this is a very unique experience," Kathryn Legg, Liberty freshman, said.
"It really is a once-in-a-lifetime thing. I think there are a lot of people in this country who are looking forward to a new administration, just a different way of doing things, a different set of ideals, really. It's … neat to see the very beginning of that."
Trump delivered a brief , concise speech after his swearing in. Many news outlets claimed his speech was divisive and delivered an inaccurate picture of present day America.
However, others praised Trump for the consistency between his campaign and his inaugural address.
"I would probably agree with some of the criticisms in that he didn't elaborate more, but that's also part of his message," Second Vice-Chairman of College Republicans at Liberty University John Wood said.
"His strong point is also that he kept it brief and to the point … That's been his message all along … He really wants to get to work."
Many spectators wore "Make America Great Again" hats, painting the front lawn of the Capitol bright red and offered whoops and cheers throughout Trump's speech.
Even so, many of the pedestrians outside of the ticketed areas were not as pleased with the new administration.
According to CBS News, approximately 230 protestors were arrested on Inauguration Day during the time of swearing in ceremony due to rioting and smashing windows of downtown businesses.
The next day, the Women's March on Washington garnered more than 1 million people Jan. 21, according to ABC News.
Despite the differences in political beliefs, many Liberty students believe the peaceful transition of power is meant to be a unifying, not divisive event for Americans.
"I'm excited to see the swearing in ceremony for the first time," Jordan Hayley, a Liberty student, said prior to Inauguration Day.
"Seeing everyone come together as a nation, seeing history being made.
I love all of us coming together as Americans and putting our differences aside to witness a
historic moment."
The university recognizes the importance of historic events such as the swearing-in ceremony and took time during Convocation Jan. 20 to pray for the city of Lynchburg, the state, the country and the world, a Liberty Media news release said.
Noon classes were also canceled to allow students the opportunity to watch the ceremony.
"If you actually have a problem with the world, you have to stay engaged," Wood said.
"We have a lot of very serious issues coming up in our lifetime.
If you don't know what's going on, people are going to make those decisions for you."
Smith is a news reporter.