From Puerto Rico to Lynchburg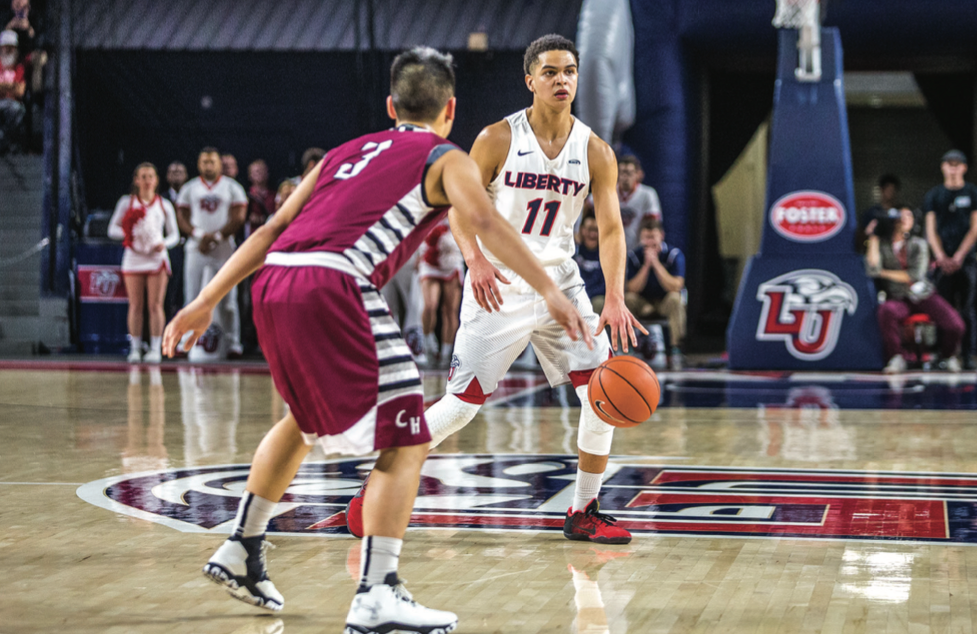 Freshman leads Flames in minutes played through eight games
In a season in which Liberty's men's basketball team is made up of seven newcomers, freshman guard Georgie Pacheco-Ortiz has been a standout for the Flames.
Pacheco-Ortiz, a sports management major from Ponce, Puerto Rico, has started in six of Liberty's first eight games. Pacheco-Ortiz has played more than 20 minutes in every game of the season and leads the team in total minutes played with 228, according to libertyflames.com.
Pacheco-Ortiz said he has fought for the playing time he has received so far and hopes to keep improving as the season continues.
"I work hard in practice to earn and keep the starting spot," Pacheco-Ortiz said. "I know that I still can improve a lot. It's my first year playing in Coach McKay's system, and it's a process. I'm not used to playing the pack-line defense, but I'm getting the hang of it."
Pacheco-Ortiz originally came to the United States to play basketball beginning his sophomore year of high school. Pacheco-Ortiz played three seasons at Deep Run High School in Glen Allen, Virginia, amassing more than 1,000 points in his career, according to libertyflames.com
Pacheco-Ortiz said the transition of playing in the United States was challenging at first.
"It was kind of hard because it is a different type of basketball than we played back home," Pacheco-Ortiz said. "In the States, you practice for two or three months for a long season as opposed to back home you would play sometimes five games in a weekend, and it's a different type of league to play in. It was hard my first year, but my next two years I did very well."
Pacheco-Ortiz also gained experience as a member of Puerto Rico's national team for the Americas Championship tournament in 2013, 2014 and 2016.
In July, Pacheco competed with Puerto Rico in the U18 Americas Championship, averaging nine points a game and leading the team in assists. Puerto Rico finished fourth in the tournament.
Pacheco-Ortiz said those tournaments were helpful because he played against tough competition.
"I got to play against guys who were better than me," Pacheco-Ortiz said. "Back home, I was a star, but once you start traveling you start to see guys that are bigger, quicker and more talented than you. It helped me be more patient and smarter with the way I play the game."
That patient, poised and under-control style has been on display in the Vines Center this season. Pacheco-Ortiz brings a versatility to the Flames which allows him to pass the ball to set up shots for teammates and lets his scoring come naturally in the flow of the offense.
"When I played for my national team, I didn't have to worry about scoring a lot of points, and that's the way it is also for me at Liberty," Pacheco-Ortiz said. "I distribute the ball, but I can score if the team needs me to."
Pacheco-Ortiz said that watching college basketball from a young age gave him the dream of one day having the opportunity to play in the NCAA Tournament.
"My ultimate goal is to make the big dance," Pacheco-Ortiz said. "A lot of people born and raised in Puerto Rico don't make it to the big dance, so that would be a dream come true for me."
Pacheco-Ortiz's basketball game is not the only thing that has improved since coming to Liberty.
Pacheco-Ortiz said that his faith and relationship with God have grown so much since coming to Liberty.
"I would say when Coach McKay recruited me to come to Liberty I believed in God, but I still had a lack of faith," Pacheco-Ortiz said. "I remember when I got to see my parents when they came to visit Liberty last January, they were supposed to leave a few days earlier but ended up getting the chance to stay and see me at the college I was going to attend."
Pacheco-Ortiz said that this specific moment made him stop and think about the way God had provided for him in his life.
"My dad was so proud of me, and I remember my dad saying to me, 'God is great,'" Pacheco-Ortiz said. "I thought to myself, 'that really is true.' Coming to a Christian school like Liberty and having the opportunity to grow my faith and grow closer to God is the best decision I've ever made."
Pacheco-Ortiz and the Flames continue the season with a matchup against Furman University Tuesday, Dec.6 at 7 p.m. in the Vines Center.
Cockes is a sports reporter.