Falwell gives his take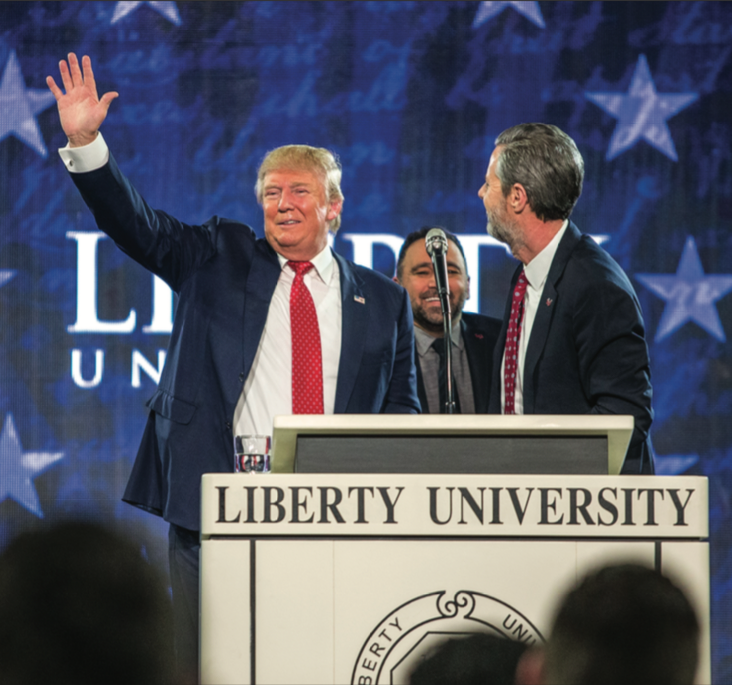 As election season wraps up, Liberty President Jerry Falwell shares his experience
Liberty University President Jerry Falwell Jr. found himself playing a key role in the presidential election cycle after his endorsement of Donald Trump in January 2016.
With the election now over and Trump preparing to take office, Falwell provided his perspective on the president-elect and how he came to believe that Trump was the best choice to lead the nation.
When did you first meet Donald Trump, and what did your relationship with him look like?
I first became intrigued with Donald Trump five years or more ago while listening to Sean Hannity interview him on the radio. The fact that he was a businessman appealed to me first and foremost. I come from a long line of entrepreneurs and business-oriented ancestors on my dad's side, and I believe there is nothing this country needs more than a businessman who has been successful in the private sector to lead us — the type of citizen legislator our founders hoped would govern this country.
I also was impressed with his desire to level the playing fields with foreign countries that were taking advantage of the United States and stealing our jobs and industries through unfair trade deals.
In 2012, I invited Donald Trump to speak at Liberty. He graciously accepted, and I instantly became a fan of the Donald. I was impressed with how personable and likable he was. We stayed in touch over the next few years and became friends.
In December of 2014, my son, Wesley, and I were in New York doing some Christmas shopping and our good friend, Michael Cohen, invited us up to Mr. Trump's office in the Trump Tower. During that visit, Michael told me that Mr. Trump had decided to run for president and would make his announcement on June 16, 2015.
You were one of the first evangelical leaders to endorse Trump, and I'm sure you knew that would draw sharp criticism. What gave you the confidence that Trump would be a great president?
It was, in fact, June 16 when Donald Trump announced he was seeking the highest office in the land. In January of 2016, I became one of the first evangelicals to endorse Donald Trump after I introduced him to speak at a Liberty Convocation. I had become convinced by that time that Donald Trump had a good heart, he loved the American people, especially the disenfranchised and forgotten Americans and that he would do the right thing for the common man as president, whether the elites on Wall Street, in the media, and in academia liked it or not. I had concluded that, as he formed his positions on the many social and political issues, he would come down on the right side because of his love for our nation.
And he did. He chose Mike Pence as his running mate. He released a list of conservative, pro-life, strict constructionist Supreme Court justices that he would appoint if given the opportunity and, according to my friend Tony Perkins, he became the first Republican presidential candidate since 2004 to allow the conservative platform committee of the Republican Party to write a truly conservative platform.
Then, Mr. Trump went further. He became the first presidential candidate to propose the repeal of the Johnson Amendment in order to return political free speech to churches and nonprofit universities like Liberty.
What was it like playing such a key role in this election cycle?
This has been quite a year. I realized the other day that I may have been the first Trump supporter to be called a "deplorable" by Hillary Clinton in December of 2015 when I urged Liberty students to arm themselves after the San Bernadino terrorist attacks. I went on Sean Hannity's TV show and said the only thing deplorable was that Hillary Clinton was a liar for distorting what I actually said.
I received a call in January from Mr. Trump on a Saturday at 11 a.m. asking me to come to Iowa to moderate his rallies. The only catch was I had to be there by 5 p.m. I made it, and our family enjoyed getting to know the Trump family — all wonderful people who sacrificed so much for this country — on the Trump 757 flying around Iowa to three rallies. I had the privilege of making numerous media appearances and writing national editorials to make the case for why Donald Trump would become the greatest president since Ronald Reagan.
I was honored and humbled to play a key role as an American citizen (not as president of Liberty University) in this historic election. When Sen. Jeff Sessions visited Liberty the night before the election, he told the story of how he was with Mr. Trump when he called me to reveal his choice to be his VP candidate. A little while later, he called Gov. Mike Pence to give him the news. Donald Trump truly is America's blue-collar billionaire. He is incredibly brilliant, and he listens to others, gleaning wisdom whenever he can. He answers his cell phone often — a sign that he is in touch with his constituency.
Describe what it was like being in New York during election night.
The victory speech in New York Wednesday morning was a dream come true for my family because I believe it represents a new beginning for America. I said in the weeks leading up to the election that the Trump movement had become a peaceful revolution of the common man taking their nation back from the elites and the establishment. I truly believe that, even though we probably don't deserve it as a nation, God chose to give America one more chance to get it right.
The best part of the celebration Wednesday morning was when we got back to the hotel room at 3:30 a.m. and my 16-year-old daughter, Caroline, said, "Thank you Dad," I said "For what?" She said, "Because now I get to grow up in a great America like you did."
That made all the sacrifices and criticism I've received worthwhile. I told Mr. Trump what she said late last week and he said, "Tell your daughter we are not only going to make America great again, but we are going to create an atmosphere where people of faith will have religious liberty again without being ridiculed."
Clarke is the managing editor.