Evangelical great honored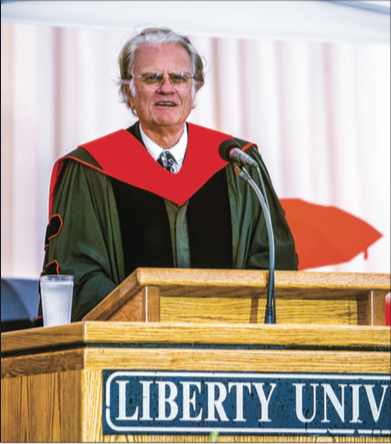 A student reflects on Billy Graham's legacy as he celebrates 98 years of life
There are some people in the faith community that I look up to primarily for their unwavering obedience to the Lord's calling on their lives and their ability to speak truth when people need to hear it most.
For me, one of those people is Billy Graham. As a person who grew up in the church her entire life, I was familiar with the name Billy Graham, but it was not until I interned this summer for the Billy Graham Evangelistic Association (BGEA), the organization Graham founded in 1950, that I began to learn what a truly great man he is.
On Nov. 7, Graham turned 98 years old, and for almost an entire century, Graham has selflessly served the Lord through his public ministry and his private life. For more than 70 years, Graham used his platform to publicly share the gospel with millions.
All around BGEA are pictures of Graham at numerous crusades, his signature gatherings in which thousands upon thousands of people would come hear him speak in cities around the world for multiple days in a row. According to billygraham.org, Graham has shared the love of Jesus with nearly 215 million people in more than 185 countries and territories.
I had the chance to hear story after story from employees of BGEA who have interacted with Graham and had their lives impacted by a man focused on serving the Lord despite opposition.
Graham came from humble beginnings in Charlotte, North Carolina, placing his faith in Jesus Christ as a young teenager and then attending Florida Bible Institute and Wheaton College.
One of my favorite stories I heard while at BGEA was about the relationship between Graham and his wife, Ruth.
According to billygraham.org, Graham met Ruth at Wheaton College, and the two went on a date. After the date, Ruth prayed "Lord, if You'd let me serve You with that man, I'd consider it the greatest privilege of my life." The two dated for a while but Ruth had her mind set on being a missionary to Tibet — Graham felt called to evangelism.
The story goes that Ruth tried to sway Graham to go to Tibet as well, but Graham spoke up and asked "Do you believe that God has brought us together?" Ruth believed that was true, so Graham said "In that case, God will lead me, and you will do the following."
Graham was married in 1943 and then was thrust into the mainstream media after his 1949 Los Angeles Crusade. The crusade, which was planned for three weeks, lasted more than eight weeks, as Graham and his team felt the Lord calling them to stay in the city longer.
I also had the privilege of reading Graham's autobiography "Just as I Am" this summer, and my mind was blown when I read of all the stories of Graham's most memorable crusades. For months at a time, Graham would leave his family and travel all around the world preach- ing in whatever venue could hold the thousands of people who would turn out to hear him speak.
Graham preached in countries Americans never imagined visit- ing, including the Soviet Union and North Korea. Graham was friends with numerous presidents and visited the White House more times than I could count in the book. He has met with every president of the U.S. since Harry Truman.
International leaders who did not even follow Jesus respected Graham and gave him platforms to preach the good news. Graham was so respected around the world, yet he remained humble by the divine calling he had to be an evangelist.
Aside from the sheer passion and boldness with which Graham preached, I most admire Graham's dedication to his family, despite traveling for a career, and his ability to live his life above reproach.
Graham cherished his time at home in the mountains of North Carolina with his wife and children and also invited his children to travel with him when they were older. Graham made sure BGEA stewarded its money in such a way that the organization's finances were handled without the chance of allegations being made that Graham financially exploited donors.
Also, Graham chose to never put himself in a position where he would be alone with a woman other than his wife. So many prominent Christians have faced accusations of sexual immortality that I admire Graham's bold stance which has prevented his name from being associated with scandal.
Approaching year 100, Graham has left a legacy that has forever changed the hearts of many around the world. More and more I hear people who share stories of how their parents or grandparents were saved at Graham crusades and, consequently, they are believers now because of Graham's preaching.
Though he may not be preaching publicly anymore, Graham's legacy will continue to live on through the lives he has impacted and the organization he founded.
Happy Belated Birthday Billy Graham. May God bless you with many more.
Rodriguez is the editor-in-chief.