Cultivating careers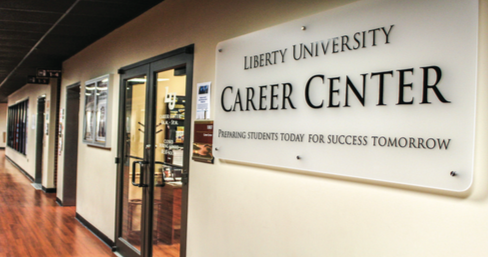 Liberty's network of employers expands to new heights
This year's goal for Liberty University's expanding Career Center is to raise student awareness of the tools and opportunities it offers, due to a less-than-desirable rate of student participation.
Only 15-20 percent of students use Liberty's job and internship searching tool LUNETWORK, according to Richard Glass, director for the Career Center. Many students walk right past the center without noticing, Lana DeWulf, the office administrator said.
"Somehow we've become the supply closet of the university," DeWulf said. "Everyone's coming in, 'Can I borrow a pencil? Can I borrow a stapler?' and we're like, 'Sure, but do you know what we're actually doing? Do you know what services are available?'"
One of these services is LUNETWORK. It is part of the larger job-search system NACElink (National Association of Colleges and Employers) by Symplicity, used by major universities across the nation.
LUNETWORK hosts more than 214,000 student and alumni accounts, according to Glass.
"I can literally say that there's not another school like it out there that has this same system — that has that many (student accounts), and that's why employers love it," Glass said.
LUNETWORK has grown from hosting 1,700 employers four years ago to more than 9,000 employers today, according to Glass. On average, 30-50 employers try to set up accounts per day.
The employers post as many as 1,500 new jobs per day, which the Career Center staff investigate to confirm their validity, according to Glass. Staff also proactively reach out to new employers to engage them in the network, describing the high qualifications of Liberty students, Glass said.
"When they see that type of value happen, then all of a sudden they want to get more involved with Liberty," Glass said.
While LUNETWORK employer posts specifically target Liberty talent, NACElink posts display all job postings from all its schools across the nation — more than 2 million jobs total.
LUNETWORK was revamped in the summer of 2015 to become more user-friendly, Glass said. Added features include a mobile app that students can use to search for jobs and internships as well as RSVP to campus career fairs and workshops.
As of 2015, any Liberty student registered for classes automatically has a pre-created LUNETWORK account with basic information filled in, Glass said. He urges students to fill out the information as soon as possible because without an uploaded resume on a public profile, students are not eligible for recruitment from employers who are paying for keyword searches of qualified students.
The Career Center also helps students with professional development through resume critiques, mock interviews and FOCUS 2 career tests.
"You show us the (job) position, and we help you understand how to tailor your resume so that it is an answer of how you are qualified for that job, and that will help you stand out amongst all the competitors across the nation," Glass said. "If you just send in a regular resume based on some format that you saw online, you will not get seen. I guarantee you will not get seen."
The center also hosts 10-12 career fairs and 20-30 informational sessions throughout the year, including workshops on building a LinkedIn profile and on how to get job offers from job fairs, Glass said.
The fairs host international companies including Kohls, Chick-fil-a and Geico, DeWulf said.
"It's really been cool to see it develop and see the bigger companies really notice Liberty and say, 'Wow, those are great students," DeWulf said. "They can compete with UVA. They can compete with the students at Penn State. They can keep up with them."
The office celebrates each time a student gets a job or internship.
"I have a gong in front that we love to ring," Glass said. "Everybody hears it all across the office … and new students or students that are in the office at an appointment at that time hear it and say, 'What's that?' — someone just got a job."
The center also offers the Washington Fellowship at Capitol Hill, an internship program available for fall, spring or summer semesters that allows students to intern in Washington, D.C. while still taking full-time credits online.
Anna Tierney, a senior professional communications student, lived on the Washington Fellowship dorm during her internship.
"One of my other friends … was literally sitting there doing his government homework in the Library of Congress, and I was like, 'That is ridiculously awesome," Tierney said.
Additionally, last year the center added a Disney College Program in both Florida and California, where students can take Disney classes including management, hospitality and customer service, DeWulf said.
The Career Center is offering a virtual career fair Dec. 1, where students can connect with potential employers online during a designated time period.
More information on Liberty's Career Center and its corresponding events can be found at
www.liberty.edu/career.
Pors is a news reporter.