The call for Callison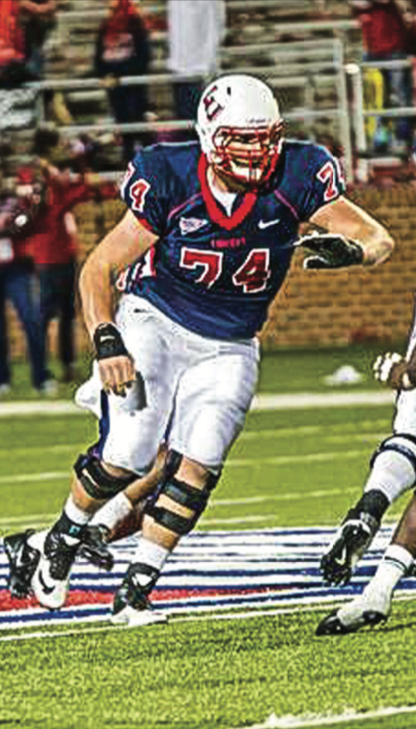 Former Flame left the football field for ministry
Ethan Callison saw the ironic headline on the Liberty University coach's desk that read, "Callison chooses youth ministry over football," while he was being offered a preferred walk-on tryout for the Flames.
Little did Callison know that the article's headline would ultimately ring true in the future.
Callison, a 6-foot-5, 315-pound lineman, had been recruited by Liberty in 2012 and was interested in playing football there but was lost in the shuffle as Liberty underwent a coaching change.
Callison said that in an interview for a hometown paper that he planned to go to Liberty regardless of his football status to study youth ministry.
The article in the local paper with the headline broadcasting his choice of career over football came out a week before Callison received a call from Dennis Wagner, Liberty's offensive line coach.
Wagner brought Callison into his office to talk about the upcoming football season.
Callison said Wagner apologized that he was lost in the chaos of the offseason, but they wanted to extend him an offer to attend their spring camp as a preferred walk-on.
Callison ended up making the team and redshirted his first season, beginning his career with the Flames in 2013.
Callison played in eight games during the 2013 season and made his first career start against Brevard, according to libertyflames.com.
After completing his freshman year, Callison said he felt a different calling for his life.
Callison told his girlfriend — now his wife — and family that the next year playing football would most likely be his last.
At the time, Callison was serving as a student pastor at his home church.
Callison said he felt like he was cheating his home church by playing football.
"I was selfishly pursuing playing football," Callison said.
"I know I'm called to ministry, so why am I dabbling in other things that are taking me away from my calling?"
In a meeting before Callison's junior year, Wagner told him that he was penciled in as the starting center for the next season.
It was in that meeting that Callison broke the news that he wouldn't be playing football next season.
"His jaw just dropped," Callison said. "He was just dumbfounded."
Callison said both Wagner and Head Coach Turner Gill wished him the best of luck in his ministry pursuits when he left the program.
Callison said that he knew that he wanted to be in ministry ever since his high school years.
"One of the pastors at my church, John Hamric, really took me under his wing while I was in high school," Callison said.
"He showed me a lot of things about ministry, and I really developed a passion for lost souls."
Over time, Callison decided he wanted to work in the ministry.
He decided to ask his head pastor for council.
"My pastor said to me, 'Ministry is the hardest thing that you will ever do in life, but it can also be the most rewarding thing you'll do in life,'" Callison said.
The spring after Callison decided to stop playing football, he applied for an internship at the Fellowship Community Church in Virginia.
Callison said that he wanted to expand beyond serving at his home church even though he loved the people there.
Callison was accepted as an intern in the student ministry of the North Campus of the Fellowship Community Church in Roanoke, Virginia in April of 2015.
In June of 2015, Callison accepted a position as student director of the North Campus while also finishing classes at Liberty.
After he finished his degree at Liberty, Callison began serving full-time as the student director at the North Campus from January 2016 until September 2016.
As of October 3, 2016 Callison has transitioned into a full-time position as the Campus Pastor of the North Campus.
Callison said he gives God all the glory for working out the smallest details of his life.
"Our God is not a God of coincidences," Callison said.
"Our God is an intentional God."
Callison encourages athletes at Liberty to look to Christ and find purpose in him and not athletics.
"If your identity is found in sports and not in Christ, then sports are your God and sports are your idol," Callison said.
"There are no ifs, ands or buts about it."
Callison looks forward to the work that God will continue to do in his life and his ministry.
"No matter what position, no matter what job I hold, my calling is to be a servant of Christ." Callison said.
Cockes is a sports reporter.