Libertarian nominee delivers plan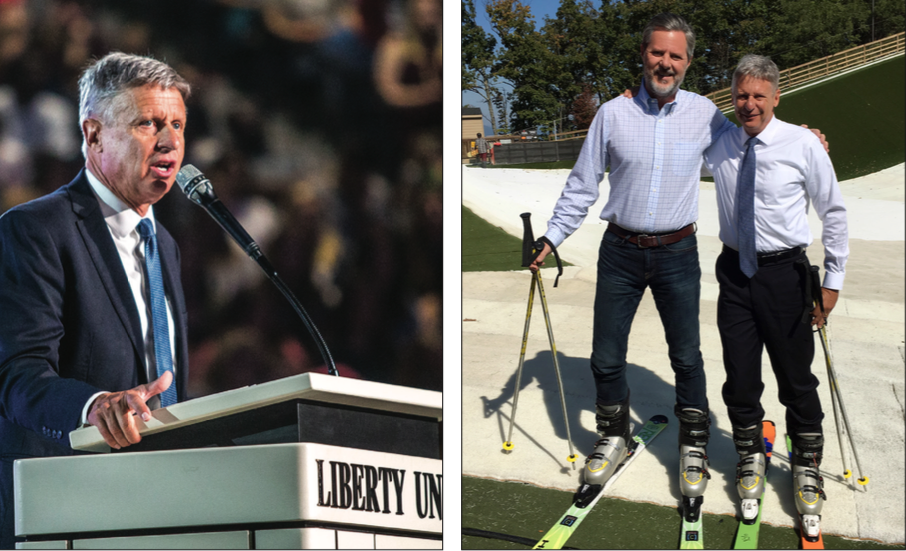 Libertarian presidential candidate Gov. Gary Johnson pitched his campaign to Liberty University students at Convocation Monday, Oct. 17.
Though Johnson will appear on the ballot in all 50 states Nov. 8, he and his policies are lesser known than Donald Trump or Hillary Clinton and their proposals.
Before diving into his ideas, Johnson provided more personal information to attendees such as his passions for hiking and skiing and his former career as an entrepreneur.
"I have been an entrepreneur my entire life — throwing newspapers, raking leaves (and) mowing lawns," Johnson said.
"When I was 17, I started working construction jobs because those were the highest paying jobs that were available. When I was a junior in college, I started a one-man handyman businesses — me — and grew that business to employ over 1,000 people."
Johnson drew comparisons between how he operated his business and how he would run the government if elected.
He said firing people is "extremely difficult," but without firing anybody, "things just don't work."
"I really do believe that hiring and firing is something that has to be learned in the private sector and in the public sector, is something that has to be learned in the private sector and in the public sector," Johnson said.
"I think that that's an actual breakdown. In the public sector, we elect a lot of people who have never hired and fired … and that … becomes the disfunctionality of the public sector."
Johnson said during his term as governor of New Mexico, he was more outspoken than any other governor about the War on Drugs, which he also believes is the root of the racial divide in the U.S.
He reported that half the money spent on law enforcement, courts and prisons is drug related and that drugs should be recognized as a health issue rather than a criminal justice issue.
In regards to recent polling, Johnson said he stands tied with Clinton among millennial voters because of his desire to reform important economic and healthcare laws.
"Nobody is standing up and saying we have to reform Medicaid and Medicare and Social Security, and in the case of President Obama's affordable healthcare, that is a formula that relies on young, healthy people paying for those that aren't so healthy," Johnson said.
"These issues have to be reformed. … Neither Hillary Clinton nor Donald Trump are going to do anything about this."
On immigration, Johnson said he largely disagrees with Donald Trump's stance.
While Trump called for a wall across the U.S.-Mexico border, Johnson said such a structure would put the U.S. on the wrong side of history.
"This country is a country of immigration," Johnson said.
"I think that we should embrace immigration in this country, and as a border state governor, we should make it as easy as possible for somebody who wants to come across the border and work to be able to get a work visa. A work visa should entail a background check and a Social Security card (so) applicable taxes get paid."
In a Q&A with Senior Vice President for Spiritual Development David Nasser, Johnson was asked why a pro-life Christian should vote for Johnson, who has said on his campaign website that women should be allowed to make their own choice.
"I personally believe that is a choice that lies with the woman involved," Johnson said.
"The law of the land says the woman has the right to an abortion up to the viability of the fetus."
Junior digital media student Christopher Draughan, a Johnson supporter, said he appreciates how Johnson is socially inclusive and fiscally responsible.
"He wants a balanced budget," Draughan said.
"He seems like someone who would be responsible to have in office when we have people like Trump and Hillary."
Dean Davison, the 6th District secretary for the Libertarian Party of Virginia, attended Convocation and said Johnson not only appeals to young people, but to all voters.
"(He appeals to) many voters because a lot of the two parties don't agree on everything, and this party … (is for) individual freedom," Davison said.
"It allows the best of the Republicans (and) the best of the Democratic ideas — socially Democratic but fiscally Republican. … That appeals to a lot of people ."
Governor Johnson has his work cut out for him though with only about 6 percent of the electorate supporting him in the most recent national polls.
After Convocation, Liberty President Jerry Falwell and Governor Johnson skied down the slopes at Liberty Mountain Snowflex Centre.
Falwell said the governor enjoyed the experience and the views.
"Governor Johnson was elated, proclaiming that today was the most enjoyable day of his campaign to date," Falwell said.
"He thanked us repeatedly for the opportunity to ski Snowflex and was amazed by Liberty's campus, saying he had no idea Liberty had become such a world class university in every respect."
CLARKE is the managing editor.