Just keep swimming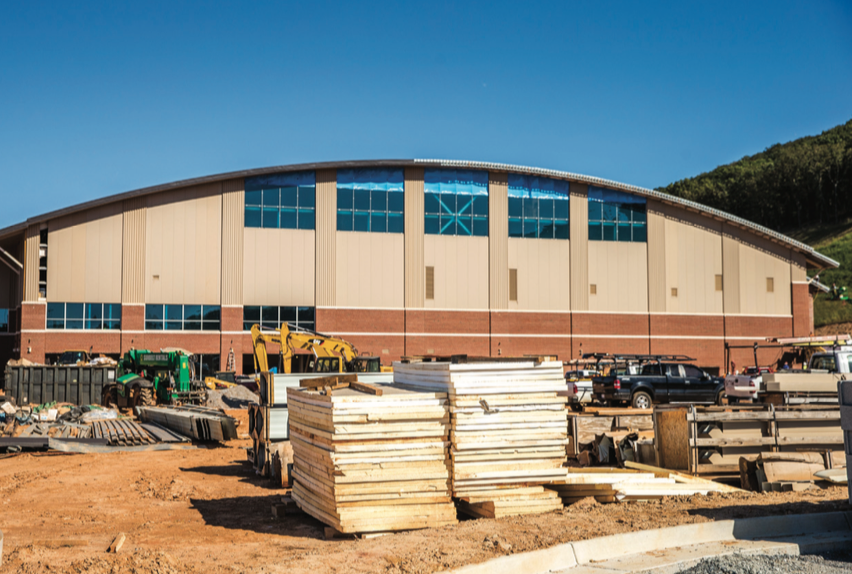 Natatorium offers 50-meter pool and new opportunities
Danielle Boothe and the rest of the women's swimming and diving team have been swimming for years in the public LaHaye Aquatics Center non-regulation sized pool.
Boothe, a junior at Liberty University, is excited about the prospect of being able to train in a new facility during her senior year.
Coming in August 2017, a new natatorium will be added to the list of upgrades Liberty's campus has undergone.
This addition will be a high-quality facility, providing greater opportunity for new and current activities as well as bringing more visitors to Liberty.
For Boothe, the upgraded pool will positively affect the women's swim team.
"We'll be able to train in a world-class, 50-meter pool," Boothe said. "It will have a lot of natural lighting in it, which will bring a cheerful, happy mood verses the dark LaHaye pool. It affects us a lot when we're there 20 hours a week."
Since the start of the women's swimming and diving program seven years ago, the 25-person team has been training in this lackluster environment. Despite this, The program is 34th in the nation and swimmers have gone to Division I NCAA Championships while practicing in this pool.
The future facility will be a complete turnaround.
There will be a weight room, a "wet" classroom, a team room and men's and women's locker rooms.
Plans also include a juice bar, the latest air filtration systems and an endless pool for technique work.
Boothe said she is most anticipating the team room and locker rooms.
"It will be nice to have a space separated where we can relax and be to ourselves," Booth said.
The pool itself will be 50 meters long and 25 yards wide, and is being built under the Monogram on Liberty Mountain alongside the new indoor track facility.
It will have the ability to hold 20 practice lanes and nine lanes for racing. The plans also include a separate diving well with springboards and a regulation platform diving tower.
Jake Shellenberger, women's swimming and diving head coach, is looking forward to the future and the possibilities the new pool will bring to the swimming program.
"It will be the nicest college facility on the East Coast," Shellenberger said. "The best is yet to come."
Some unique features of this facility include the bowl spectator seating and the curved roof which will maximize the noise of the crowd.
Shellenberger said the goal for Liberty women's swimming and diving is to be a top-25 program nationally.
In order to reach that goal, he needs to recruit top swimmers who often look for a university with an Olympic-sized pool.
"It will be a good recruiting tool and attract a lot of fast recruits that are looking for a Christian atmosphere and good facilities," Boothe said.
The new pool will not be useful only to for the swimming and diving team.
According to Shellenberger, the natatorium will be open to recreational swimmers, kinesiology classes, the triathlon club team and future men's swimming and water polo club teams.
YMCAs and high schools will be able to rent out the pool for team practices, and high school swimming state championship meets will be held at this facility.
Liberty will draw the attention of many in and out of the swimming world, according to Shellenberger, because the pool will be a place teams will want to utilize.
This improvement will draw many to Liberty's campus.
"Big meets will be hosted here," Shellenberger said. "Twenty thousand visitors are expected to come to Liberty yearly just for meets."
NULL is a feature reporter.