Campus crime
New report highlights 2015 crime statistics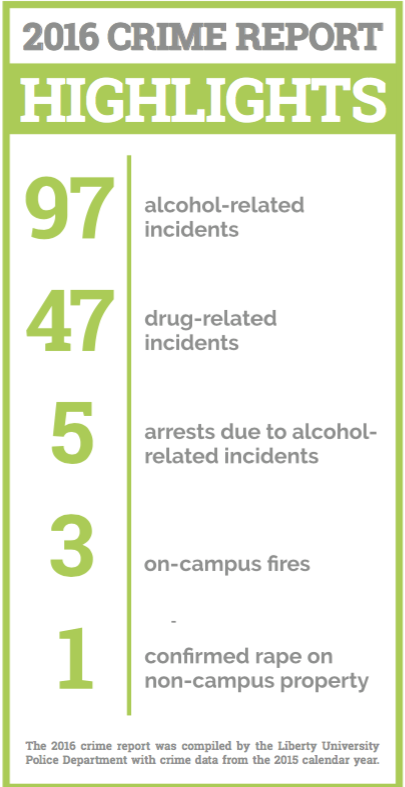 Liberty University's annual crime report released in early October showed a slight increase of on-campus alcohol and drug related violations, zero cases of burglary and no reported cases of rape or fondling on main campus in the 2015 academic year.
Since 2002 — the first year Liberty's crime report was published online — crime records have consistently shown the most prevalent on-campus problem being liquor and drug-related offenses.
In 2015, there were a total of 97 liquor law violations and 47 drug-related offenses, up from 57 liquor and 31 drug related offenses in 2014.
Never before has Liberty received more reports of drug-related crimes than in 2015, which could range from possessing illegal substances to having a pack of cigarettes, although none of the drug-related offenses led to arrests.
The only other year Liberty saw as many liquor law violations was in 2009 when the university recorded 93 cases referred to campus discipline.
The report noted that five of the 97 alcohol-related offenses led to arrests, and 92 were referred to campus discipline.
Liberty's student honor code — better known to most at the university as the Liberty Way — prohibits the possession of alcohol by residential students both on and off campus, requiring Liberty University's Police Department (LUPD) to report more cases of violations than most public universities have to report.
In the crime report there were no burglaries, a stark contrast from college campuses across the country.
According to statistics from the Federal Bereau of Investigation's Uniform Crime Report, burglary and larceny makes up approximately half of the nearly 28,000 crimes that were confirmed on campus property across the nation.
The recent crime report is the first one since 2002 that a burglary was not reported to have happened on campus at Liberty.
The highest amount of cases of burglary in one year was in 2009 when 15 burglaries were recorded to have happened on campus and non-campus property.
Non-campus properties are locations such as the Residential Annex or Equestrian Center that the university owns but are not attached to or adjacent to Liberty's main campus.
Compared to surrounding schools, Liberty has historically recorded fewer cases of robbery and burglary than any other.
Liberty, Lynchburg College, James Madison University and the University of Virginia together recorded 87 burglaries on campus in 2014, more than any other crime between the four universities.
In 2014, Liberty recorded five burglaries, or a mere six percent of the cumulative share of reported burglaries between the four schools.
For the first time since 2005, Liberty's crime report also listed no cases of rape and fondling on Liberty's main campus, with one case of rape and two cases of fondling on non-campus properties.
According to the report, one case of fondling was recorded at the Residential Annex and no cases of rape or fondling were recorded at the Equestrian Center.
It is common, however, for victims of sexual assault to not report their case out of fear of having their information become public or retaliation from the assaulter.
A campus climate survey from the National Center for Victims of Crimes found that only 12.5 percent of rapes and 4.3 percent of sexual assaults are reported to any school, healthcare or law enforcement official throughout campuses nationwide.
Director of Liberty's Title IX Office Brittney Wardlaw noted the Title IX Office at Liberty takes specific precautions anytime their office receives a report of sexual assault.
The office uses a checklist that all reports of sexual assault must go through to ensure anonymity and protection of the victim against retaliation throughout the entire process.
"We respond really quickly to any reports of retaliation, because the problem with that is it really discourages people from coming forward out of fear of how people are going to respond," Wardlaw said.
"It's not something that we tolerate, and it's not something that is accepted because we want this to be an environment where …
you are heard."
Another way the Title IX Office encourages reports is through its amnesty policy.
With it, those students who have knowledge of a sexual assault but were separately in violation of the Liberty Way will not be punished for their violation of the honor code if they share their information with a Title IX representative.
"An amnesty policy is something that you would want to have at a faith-based institution because we function with a student honor code that prohibits things like alcohol and pre-marital sex," Wardlaw said.
"If (someone) is in violation of the honor code, and they come forward with something to do with sexual violence, (the violation) is no longer the focus of attention."
Below the on-campus crime statistics on the report is a detailed list of offenses that took place during university trips — including those taken by LU SEND and sports teams — though no crime was reported at any of the university-sponsored trips.
Trips taken by the football team and cheerleading team were excluded from the report, as a trip was only required to be included if the group traveling was gone more than one night.
Also in the report, it stated there were no recorded cases of arson — the first time since 2012 where there were no such cases — despite three on-campus fires.
Out of the three, a fire in the laundry room of Commons I was the most substantial, requiring $250 in repairs to replace the property.
The campus crime report is released every year at the beginning of October by LUPD in compliance with the Clery Act, a federal statute signed in 1990 that requires colleges and universities to report crime statistics that happen on campus.
Young is the news editor.