Momma, we made it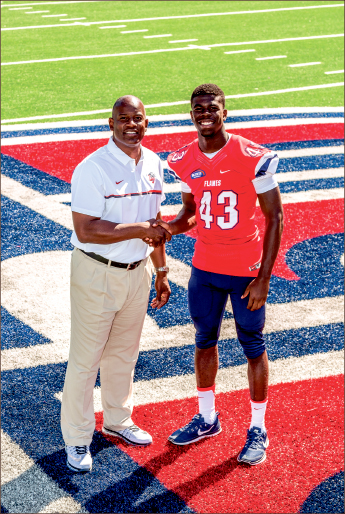 The road to becoming a Flames football walk-on is a long journey
According to cbsnews.com, only 16 percent of high school seniors will go on to play football at the collegiate level.
Attempting to walk on to a college team makes your chances even slimmer, but five players beat those odds to join Flames football this fall.
Spencer Jones, Benjamin Alexander, Joshua Carlin, Cole Gibson and Thomas Sargeant all impressed the coaching staff enough to be added to the roster, according to libertyflames.com.
In order to walk on at Liberty University, a student must have an eligible GPA, be a full-time student with at least 12 residential hours, complete the walk-on tryout form along with the liability and waiver forms and obtain a physical and blood test results, also accompanied by proof of valid health insurance, according to libertyflames.com
On top of that list, football walk-ons must also provide a letter of recommendation from their previous coach, a link to their highlight film and register with the NCAA Eligibility Center.
Summed up, walking-on to Liberty football is a process that is difficult both physically and mentally.
"It can be defeating at times," freshman safety Benjamin Alexander said. "Just do what you're supposed to do and work hard, (is) what the coaches have told me."
According to the players, the coaches have been instrumental in helping the players get settled into their respective roles.
"Coach Dailey has helped me in every aspect to learn what I'm doing," freshman quarterback Spencer Jones said.
"(Coach Wagner) has guided me and helped me a lot," freshman offensive lineman Josh Carlin said.
Making the team is only the first part of the process. Once allowed to join the team for practice, the walk-ons had a lot of catching up and standing out to do.
"(I came) in July, and everybody's already here," Jones said. "Trying to learn everything as quick as you can so that you can be beneficial on the practice field — that's the hardest part. As a quarterback, there's a bunch of stuff you need to know. You have to know everybody's position — know the basic reason why we're running the play. It's a part of the game."
For others, the biggest adjustment has been the challenge of putting on weight to match competition. "For me personally, I just have to put on weight," Alexander said.
"I just need to get bigger, stronger," Carlin said.
All of the players now face the challenge of competing for a starting spot.
It's even more challenging considering the same teammates they are proving themselves to and building relationships with are also the players they're competing with for a starting spot.
"Competing with (freshman kicker Alex) Probert, we go back and forth and we push each other," freshman kicker Cole Gibson said. "We both do really good."
Many of the Flames' past walk-ons have panned out to become starters, some even captains.
Alex Burgess, a senior guard for the Flames last year, worked his way from being cut, to walking on, to captain status during his career at Liberty, according to libertyflames.com.
Zachary Schreiber, a 2016 Rare Disease Champion finalist, was a linebacker for the Flames who got his spot on the team after walking on, according to upliftingatheletes.org.
The Flames' current starting safety, Alpha Jalloh, also walked on to the team after transferring from Stevenson University, according to libertyflames.com.
In the season opener, the Flames played 15 people who had not previously had a single rep in a college football game, nine of whom were freshmen, according to newsadvance.com.
"We did plan to play a lot of freshmen this year," Liberty Head Coach Turner Gill said in a weekly press conference. "I'm willing to play some guys precisely on special teams."
Davis is a sports reporter.