God help the outcasts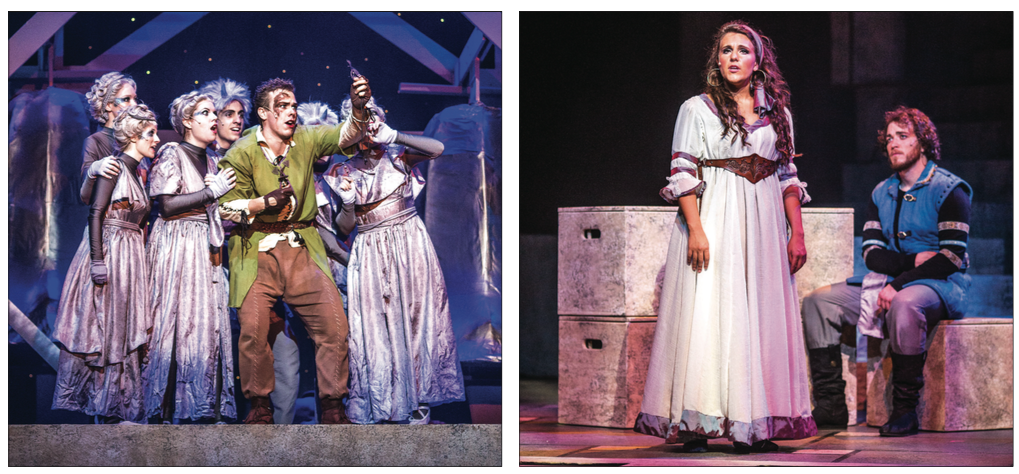 'The Hunchback of Notre Dame' premieres for the first time in Virginia
The Tower Theater was reimagined into a gothic cathedral as "The Hunchback of Notre Dame" premiered Friday, Sept. 16.
The Alluvion Stage Company has the honor of being one of 12 theaters in the nation to hold copyright privileges to the musical.
According to Director Linda Nell Cooper, the Tower Theater is the first to show the musical in the state of Virginia. Accompanying the show is a live orchestra led by Kathryn Voelker.
Based on the animated Disney film of the same name, the musical features much of the same music as the movie. The music is brought to life by the cast's 18-member choir.
"The Hunchback of Notre Dame" is the largest production that Liberty has put on to date, with a 50 person cast and a total of 98 people involved in the musical itself.
Liberty University alumnus Ryan Scanlon plays the character "Quasimodo," a hunchbacked character who has lived his life locked in a bell tower, hidden from the world.
According to Scanlon, Quasimodo is a joyful and compassionate character, despite the struggles he has endured.
"I think he's a really unique character because even though it's this really tragic, sad story, he's just this joyful character, which is not usually what the lead character is in a really dramatic piece," Scanlon said.
Quasimodo's character is complex, as he has a longing to connect with others while also having lived a life of solitude, according to Scanlon.
"I think he's really yearning for human connection, and you get to watch him experience it for the first time," Scanlon said.
"The Hunchback of Notre Dame" has a theme of community and understanding, Scanlon said.
The musical prominently features characters with disabilities and characters from marginalized groups, including Quasimodo.
"It has a really important message that people should hear about empathy and understanding other people, and caring about people around us," Scanlon said.
Scanlon believes the show is special not just because of the storyline, but because of the actors and actresses who come together during the performance.
"The cast is something that makes it special," Scanlon said.
Liberty alumna Makenzie Pusey graduated in May 2016 but came back to perform in the show as Esmeralda, the female lead.
"Everyone has an expectation about (the musical), but it's very different than the movie," Pusey said. "It goes so much deeper than the movie."
Pusey believes that although her character can be confusing at times, Esmeralda is a gallant person that wants to help others.
"I think she is a very selfless character, which is hard to find … when that's just not human mentality anymore," Pusey said.
Pusey believes that although her character can be confusing at times, Esmeralda is a gallant person that wants to help others.
Pusey believes her character is compassionate toward others and that trait is what makes
Esmeralda so unique.
"She doesn't always think she deserves the love, but she would love anyone," Pusey said. "That's why she's so close to Quasimodo — because she doesn't see what everyone else sees. She just loves him for who he is. I think that's what makes her such a special character."
Although the play does not openly express a biblical mindset, Pusey believes the Gospel is still hidden within the theme of the musical.
"God calls us to love, and I think it may not say it openly, … but I think that's so what it's about – about not judging people, about not disliking someone because they're different," Pusey said. "It's just about showing God's love to everyone."
The musical is recommended for those ages 10 and above, due to the musical's darker
undertones.
"The Hunchback of Notre Dame" will run at the Tower Theater until Oct. 2, 2016, with a special performance Oct. 2 featuring American Sign Language interpretation. Tickets can be purchased through the MyLU portal or by calling 434-582-7328.
SWEENEY is a feature reporter.