Reigning Victor-ious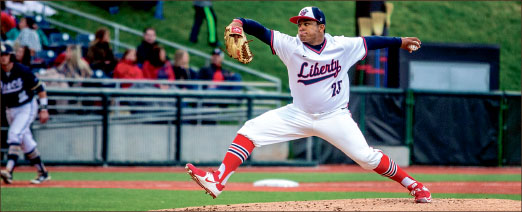 Flames senior has been a dominant force since he first picked up a baseball
Victor Cole had only a short amount of time to make an impact at Liberty. After transferring before his junior season of baseball, the race was on to make his mark on this program, which he has done. And he is not through yet.
Like many kids, Cole began playing baseball at a very young age. His father, Victor Sr., was a professional baseball player who had a short stint at the major league level with the Pittsburgh Pirates in 1992, before heading back down to the minor leagues. Cole recalls as early as two years old, he found himself at the ball field with his dad, which he says has helped to build his foundation not just as an athlete, but also as a person.
"(Having a dad who played professional baseball) was nice," Cole said. "He has a lot of experience and knowledge about the game, and even stuff off the field, which helped me to keep my foundation strong in baseball and everything else."
From 1994-2002, Cole's father, a right-handed pitcher, went back and forth between the minor leagues and semi-professional teams in Taiwan and South Korea. During that time, the family was able to travel with Cole's father to most of the places he played, though they stayed based in Memphis, where Cole was born and went to high school.
Growing up, Cole tried his hand at a few different positions on the diamond. When he was not on the hill, he played outfield and first base, but discovered quickly that he was gifted at pitching.
"I was an okay hitter, and I could get the job done, but pitching was just something that I had more resources for to succeed," Cole said.
The result of his decision to stick with pitching was a stellar high school career. Cole, a lefty, was a four-year letter winner at Memphis University School and a three-time all-state first team selection. In his junior season, he went undefeated with a 10-0 record and a 0.56 ERA. He followed that up by going a pedestrian 9-1 with a 1.56 ERA in his senior year and graduated as the school's all-time leader in wins, ERA and strikeouts.
Fresh out of high school, Cole made the decision to attend Tallahassee Community College (TCC), where he was a two-time All-Panhandle conference selection, two-time Florida College System Activities Association (FCSSA) Academic All-State first team member and Honor Roll member. He worked primarily as a relief pitcher his freshman year at TCC, going 5-0 with a 1.76 ERA and eight saves in 2013 to earn the conference's Fireman of the Year award, given to the conference's top reliever. He was also named the TCC Male Scholar Athlete of the Year in 2014.
Though he dominated at TCC, it seemed odd that a pitcher of his talent and caliber would be pitching at a junior college, but Cole regretted none of it and knew it was part of a plan.
"It was just another good opportunity to be in a different environment," Cole said. "At the moment, my heart just told me to try (TCC). And it might have been God's plan, so I wanted to take that leap of faith, and I'm really blessed with where I am now."
In the summer before his sophomore year, Cole decided that he wanted to get back to being a starting pitcher and knew he needed to work to regain that stamina. He made a call to his old summer league team that he had played with the year before and asked if he could get some playing time. The coach told Cole to meet him at an event in Indianapolis to throw a few innings. It was there that Liberty Flames Assistant Coach and Recruiting Coordinator Jason Murray noticed Cole and liked what he saw from the southpaw.
Murray called Cole after the game and encouraged him to visit Liberty before he returned to TCC, which Cole did and immediately loved it. He ended up starting the entire 2014 season for TCC and transferring to Liberty at the end of his sophomore year.
Cole burst onto the scene at Liberty as a junior in 2015, going 5-3 with a 2.67 ERA and 74 strikeouts in 84 1/3 innings pitched. He held opponents to a .208 batting average against him, which was third in the Big South and even took a no-hitter into the ninth inning against Bryant Feb. 28, 2015.
The key to Cole's success is not power, but finesse. Cole possesses a six-pitch arsenal that consists of a four-seam fastball, a two-seam fastball, a changeup, a curveball, a recently-added slider and a split-finger fastball, which is one of the more difficult pitches to throw. With his dad always there to coach him, he learned early to master his command and change speeds effectively.
"I've always worked on different pitches and trying to master them," Cole said. "But my dad always told me 'Just hit spots and change speeds.' And at any different time I can change speeds or hit a different spot with another pitch, so I'm confident in all my pitches."
While some pitchers isolate themselves to focus before heading out to the mound, Cole spends every game before a start with his teammates. He uses the time to encourage his teammates and get them in a positive, game-ready mindset before they take the field.
"I just try to keep everybody lose and positive, and what bad can come from that?" Cole said.
Now a senior in the twilight of his collegiate baseball career, the reserved, cerebral Cole remains focused on the remainder of the regular season and, potentially, the postseason. However, to be drafted by a Major League team would be a dream come true and an honor, he said. Though he says he tries not to think about it, he became part of a program that has seen 64 players drafted by Major League teams — and he could be next.
Vandenbosch is the sports editor