Oh Snapple, for the win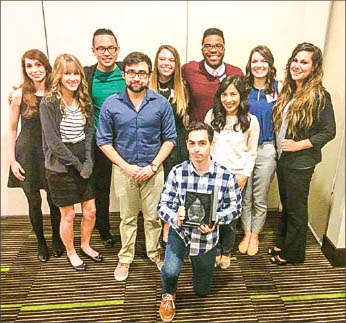 Advertising Team takes third place at the National Advertising Competition
Every year, all across America, college students prepare to compete against one another in a competition hosted by the American Advertising Federation.
The Liberty University Advertising Team participated in the 2016 District 3 National Advertising Competition, winning third place in a competition that included 10 other colleges. As a university, the team also took home the most awards from the competition, winning both Best Presenter and Best Plans Book.
The competition itself had teams creating a plans book, which outlined a campaign concept for a national brand. The book included a year's worth of research material, business information and design work.
"Each year there's a different company that we come up with a campaign for," junior Sierra Tilley said. "Last year, we did it for Pizza Hut. This year, it was for Snapple."
Tilley, who is an advertising and public relations major, participated in the competition as a practicum. The class is offered in both the fall and spring semesters, but students are encouraged to participate for a full year.
"We'd research different tactics throughout the week and just form the campaign slowly together," Tilley said. "I think I learned the most from the class than any other, just because it's so hands on and you just go and do it."
Nine students from the School of Communication & Creative Arts formed the team, ranging from those pursuing advertising degrees, to those pursuing graphic design and journalism.
Matthew Voss, a senior in advertising and public relations and the president of the Advertising Team, noted the unique experiences this practicum offered.
"We get to do things that most classes don't offer, which included more work on the business side," Voss said. "It's really a unique opportunity, because none of the other classes really offer working at an agency, or the feel of it."
Last year, the Advertising Team took home a sixth-place finish in the competition. Voss discussed how the team operated differently this year and what the team learned from the year-long experience.
"Listening to people is always huge, because you never know where a great idea is gonna come from," Voss said. "Also, to stick to something and keep pushing it —because you never know how it's going to turn out."
Moyer is a feature reporter.