Not just a freshman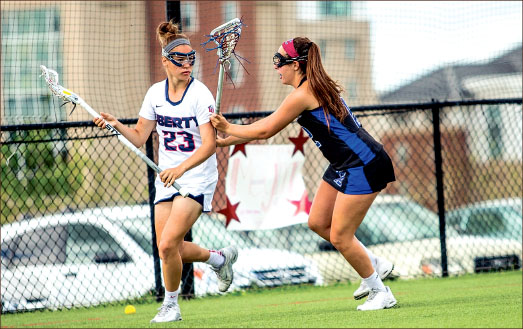 Kayla Foster has had a big impact in her first season with the Lady Flames
Kayla Foster, a freshman women's lacrosse player, recently earned the title of Big South Freshman of the Week for games between the dates of April 4-10.
During that time span Foster notched four goals and three assists over the course of two games. Over the entire season she has recorded 22 goals and 28 assists while playing in all 17 of the Flames contests.
"It's a full team effort," Foster said. "Everybody is on board, and we all want the same thing."
Coach Kelly Nangle gives the credit for Foster's success to the freshman's quick development during the season.
"At the very beginning of the season she was uncomfortable kind of taking it herself (to the goal), and now she's kind of been able to put the two and two together," Nangle said.
"She can be a feeder, but if they give her space she'll drive, so now she's a double threat, which is helping her and our offense because now people are knowing that they have to keep an eye on her."
Foster's goals and assists add up to 50 points on the season, the most on the team.
She attributes the automatic success she has witnessed to her teammates.
Although she can easily score goals, Foster takes pride in being a team player. For her, helping the team in any way possible shows more success than any statistic can.
"(I want) to be a team player and do whatever I can for everybody else on the field, whether that's scoring, assisting or just getting ground balls — it doesn't really matter," Foster said.
"Just as long as I can contribute to the team."
With such a selfless mindset, it did not take the rest of the team long to latch onto Foster as one of their leaders.
Although just in her first year with the team, her spirit of leadership has helped with the progression of the team throughout the season.
"She has really stepped up a ton as a freshman," Nangle said. "I think she naturally is a leader, and she is kind of evolving into that role, but (she) has a lot of upperclassmen to help lead her as well."
In an attempt to show good leadership, Foster is always thinking of ways to improve her game and overall skill.
"My biggest weakness is communicating and being vocal, since I don't really know what I should be saying," Foster said.
Along with constantly thinking about becoming a better player, she also puts extra work in to help further her skill.
"Any extra time she has, she has a stick in her hand, which catches on to everybody else," Nangle said. "She's just a competitor. She puts in the extra work."
Foster, who has played lacrosse since her friends convinced her in sixth grade, seems to be enjoying her time at the division one level of the sport.
She credits her club coaches in high school for getting her in touch with the right people in order to make her dream a reality.
"She's on pace to be one of the best players to ever go through here," Nangle said.
Keating is a sports reporter.