For the love of music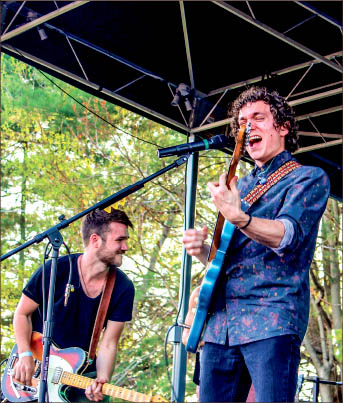 The annual Lynchstock Festival aims to showcase local artists April 23
The fourth annual Lynchstock Music Festival will be held Saturday, April 23 featuring more than 40 performers to showcase the importance of music and the arts in memory of Jon Gregoire, one of the co-founders of Lynchstock.
Lynchstock began in 2013 with around 200 attendees and has seen tremendous growth since then, reaching close to 3,000 people in 2015.
Jonathan Smalt, Lynchstock co-founder, said the festival started as a grassroots campaign to meet a need in the Lynchburg community.
"The reason we (started Lynchstock) is because we wanted a place in town for music and for artists to be able to hang out," Smalt said. "That's something Lynchburg is lacking and has been lacking for a long time."
Smalt said the second year was when they saw real potential for the festival's growth, increasing from 200 to 1,000 attendees.
It was around that time when Gregoire passed away. After his passing, Smalt said he had to decide if they would continue the festival without him.
"After seeing how much Lynchstock was growing, it wasn't about any one person, it wasn't even really about Jon," Smalt said. "It was always about the community of Lynchburg and finding ways that we can unite different types of people, regardless of their background, their religion, or their sociopolitical status."
He has been running the event with a team of about 10 people for the last year. Most of them live in Lynchburg, but Smalt coordinates a lot of the festival from his home in Nashville, Tennessee.
He said that the festival has never been about the money, but it has always been about bringing new opportunities to the artists and the community.
"A lot of our team volunteers their time," Smalt said. "It really comes down to loving the city and wanting to see things improve."
This year's festival will see 32 musical acts and 10 spoken word performers split across three stages throughout the day. Each stage is within walking distance from the others, so attendees can listen to whichever act they prefer.
As with years past, the artists will be performing multiple genres including indie rock, Americana, country, hip-hop, and this year will even feature an Electronic Dance Music (EDM)
performer.
One of the bands performing, Jake Ziegler and the Locals, is comprised of Liberty students. Ziegler, their guitarist and lead singer, said Lynchstock is shaping up to be a fantastic experience.
"Everyone that is involved with this event has been nothing but welcoming to us as a new band, and we've felt right at home with everyone," Ziegler said. "We've been looking forward to this festival for a long time, and we can't wait to show everyone what we're all about."
Ziegler said their band plays classic rock 'n' roll and will be showing off a lot of original material. He said their goal is to entertain the crowd.
"We just want to give the audience a high-energy, live show and hopefully they'll come away from our set and say, 'wow that was entertaining,'" Ziegler said. "Our set will be at 1:55 (p.m.) on the dot."
Smalt said in addition to the music, there will be craft vendors, food trucks and a live painting of a mural. He also said at the end of the night, they are going to close the festival down and turn it into one huge hip-hop dance party.
The festival will be held at Benjamin's Restaurant, which is located at 14900 Forest Road, Forest, Virginia.
Tickets can be purchased online at www.lynchstockmusicfestival.com/tickets or at the door the day of the festival.
Smalt said they are always looking for volunteers to help put on the event, and for anyone interested, they can apply at www.lynchstockmusicfestival.com/volunteers.
A full lineup of performers can be found at www.lynchstockmusicfestival.com.
GEE is a news reporter.