Chalk one up for the nice guys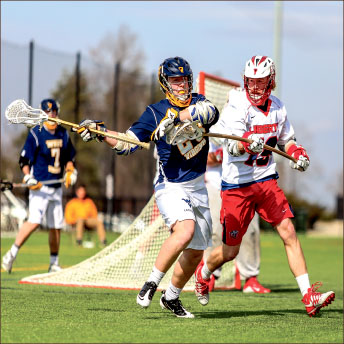 The always-smiling senior Brandt Grauss never lost a game on his home field
A smiling presence on the dorm, ready to lend a helping hand or teach the gospel, yet a terror on the lacrosse field, senior defenseman Brandt Grauss played his final game at Liberty University, never losing on the home turf.
Defeating the Virginia Tech Hokies April 15 by a score of 15-7, Grauss scored a goal of his own on senior night to propel the Flames into the Southeastern Lacrosse Conference tournament by helping the Flames secure the Northwest Region regular-season title.
"There was a lot of pressure," Grauss said. "You feel it toward the end. It was one of those things you don't usually think about it going into the game, but as soon as we beat Michigan State, we realized it was mostly just easy teams, then Virginia Tech at home. …
To beat them on our senior night — last home game for the perfect record — was one of those perfect nights."
Yet, Grauss, who has compiled a noteworthy career, said he never planned to play lacrosse at Liberty.
"In my mind, I didn't think I wanted to play lacrosse coming into college," Grauss, who began playing lacrosse in seventh grade, said.
"I wanted to focus on my studies. But I ran into one of the players at the ice rink randomly one day and asked him when tryouts were. (I) decided to show up, and it started, and it kind of just came together."
Grauss said his decision to come to Liberty was strictly a spiritual decision made without lacrosse in mind.
"I ended up googling 'Christian colleges,' and that's how I ended up here," Grauss said.
"I felt called to be a pastor. I started a ministry my senior year (of high school). I prayed about (Liberty), took a leap of faith and everything just came together, scholarships and everything."
After spending two years on the lacrosse team, Grauss decided to get more involved with campus activities as he tried out and was selected to be a resident assistant (RA) for the 2014-2015 school year.
He said once he set foot on campus, it was something he had considered doing, but after his RA during his sophomore year encouraged him to try out, he took another step of faith.
However, with the tasks required of an RA, Grauss decided to hang up his lacrosse cleats for good, or so he thought.
He didn't play the fall of his junior year as an RA, but continued to watch and support the team.
"I initially thought I wasn't going to play anymore once I became an RA," Grauss said.
"But, (after) seeing everyone out there in the fall and everything, I realized it was something I wanted to sacrifice for, something I wanted to commit to, so I talked to OSL and got it taken care of and started playing."
Though the hard work has paid off for Grauss, the journey has been far from easy.
"My junior year was really nuts because (in) your first year as an RA, you're still trying to figure out the ropes and balance that and doing anything else is pretty tough," Grauss said.
"Lacrosse is really physically demanding (and) requires a lot of time. You've got to know what you value and commit to it. If I know that I value lacrosse and I know that I value spending time with the guys on my hall, doing my responsibilities, then I'm gonna find time to do them, and that just had to be the mentality."
Through his four years on the Flames men's lacrosse team and two years as an RA Grauss said he has learned responsibility and time management, but most importantly who the top priority is in his life.
"The most life-changing thing has been figuring out how to balance what you value," Grauss said.
"I'm very people-oriented and getting into those very stressful, crazy schedules, it's really easy to lose what the important thing is for me. It doesn't lead to good places for my heart. So just learning how do I put people first? How do I serve and make time for all these relationships and put those first and put my relationship with God first? (I've been) learning to really make those absolute, unquestionable priorities in light of all the stress and pressure from the other stuff."
Nathaniel Whyte, a fellow defenseman on the lacrosse field and a spiritual life coach under Grauss on his dorm, has been influenced by Grauss's leadership on and off the field.
"(Grauss' leadership) has taught me to put God first in everything, and (God) is really the only thing that matters," Whyte said.
"(Grauss) is a very happy and pleasant guy to be around, but give him a lacrosse stick and he turns into an animal. It's beautiful to watch."
As Grauss' time as a Flame dwindles down, Grauss said he is planning to move back to his home state of Georgia, where he will be doing a two-year pastoral mentoring internship, with hopes of soon thereafter pastoring a church of his own.
"I love people, and I want to lead and serve them and teach them about Jesus for the rest of my life," Grauss said.
RODRIGUEZ is the news editor.