Waiting for a chance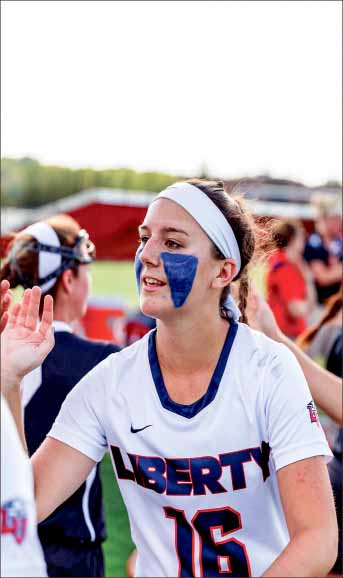 Lady Flames junior Victoria Tickle seizes her opportunity to make an impact
After sitting on the bench for the majority of her freshman year, Victoria Tickle was patiently waiting for her number to be called.
Halfway through the 2015 women's lacrosse season last year, Tickle's skills were needed on the field, and she has fully taken advantage of each opportunity since then.
Tickle, a now junior defensive player, has honed her lacrosse skills and was named the Big South Defensive Player of the Week for games played from Feb. 8-14.
"I can't talk enough about her and how far she's come," Liberty Head Coach Kelly Nangle said. "She didn't play at all her freshman year. She came in halfway through the year last year because someone got injured, and there was an opportunity for her. So to be able to see what she has done with her opportunity is every coach's dream. She was ready when her number was called, and she hasn't looked back since."
In the Lady Flames Feb. 13 game versus the Virginia Tech Hokies, Tickle led the team with five groundballs and three caused turnovers. Currently, Tickle leads the team with 19 groundballs. She is tied for the second on the team with a total of eight caused turnovers.
Tickle, who is a core member of the Lady Flames experienced defense, only began playing lacrosse as a freshman in high school.
After being persuaded by people, including her older brother Chris, to try out for the high school lacrosse team, Tickle instantly fell in love with the sport and with the defensive position. Tickle was a three-sport athlete in high school, also playing field hockey and basketball.
"Defense was the easiest thing to pick up for me," Tickle said. "I know it sounds weird, but it is kind of similar to basketball. You're always anticipating the next thing. I love the feeling of being in a unit with someone and knowing they have your back. Our defense is so strong."
Nangle has also seen how Tickle's basketball skills translate to her ability to be a shut-down defender.
"She sees the field really well," Nangle said. "And the more and more she gets comfortable with every game … the better I think she is going to do. … She is able to bring our athleticism to our defense and make our defense as a whole better."
Though Tickle's physical skills out of the field have helped the Lady Flames thus far, her leadership skills continue to be an asset to her teammates.
"I think one of her greatest qualities is her personality," Nangle said. "She has a really special way to take things seriously, but to have fun at the same time. A lot of girls don't know that balance.
In a Division 1 atmosphere, getting into season, things tend to get serious and it's really nice to have someone like Victoria who is constantly getting everybody together and making it lighter."
After two years on the team, 2016 is a different year for Tickle. This year she is able to play alongside her younger sister Brittany, who plays attack for the Lady Flames.
"One of the fall ball games I picked up a ground ball … and I looked down the field, and I was like 'Oh my gosh, it's my sister,'" Tickle said. "I threw the ball to her. It's just so cool. … Playing together is definitely a blessing. I'll look down (when) we are running sprints or doing something with conditioning, (and) my sister's there with me. It's another motivation to want to be here."
While a college athlete herself, Tickle said she has a special family member she looks up to — her cousin and NFL football player Jason Witten.
"It's cool to watch him play and (say) 'that's who I am related to,'" Tickle said. "He's definitely a man of God. He's a good athlete. He's kind of a role model. I know we play different sports, but seeing where he has come from and where he is now and how he impacts people's lives. … That's what I want to be."
As a junior, Tickle has another year left to lead the Lady Flames back to the Big South Championship, but after leaving Liberty, Tickle plans to pursue an elementary teaching job.
"I want to impact kids to go down the right path," Tickle said. "To be there for them and care for them is one of the big things."
Tickle and the Lady Flames lacrosse team look to improve their record as they return to action March 5 versus Old Dominion.
Rodriguez is the news editor.