Politically engage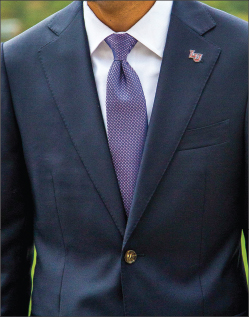 Discussing faith, politics with the school of divinity
Liberty University's School of Divinity is combining what some people might consider the two most controversial and heated topics — politics and religion.
The school of divinity is set to host the second annual Everyday Theology Conference beginning March 31, which will focus on Christian political engagement.
This year's conference will feature special guests Dr. Darrell L. Bock, executive director of cultural engagement and senior research professor of New Testament studies at Dallas Theological Seminary, and Dr. Amy Black, professor of political science at Wheaton College.
"The goal of the conference is to bring theological reflection into everyday issues," Theological Studies Chairman Dr. Chad Thornhill said.
The conference has come at an important time in the year, according to Thornhill.
"Obviously, this being election year, this is sort of a hot topic," Thornhill said. "Not just here on campus, but across the country and really across the world."
The conference is held the same weekend as the Evangelical Theological Society (ETS) Regional event at Liberty.
"We decided rather than having two separate events, we would shorten the theology conference, which last year was a three-day event, and we would pair it with the ETS Regional," Thornhill said.
The conference includes an open lecture followed by a Q&A Thursday, March 31 with Black from 7-8:30 p.m.
According to Thornhill, Black will share points from her most recent work as the editor of Five Views on the Church and Politics by explaining different ways the church is involved in political engagements.
"Sometimes we know that we disagree as Christians about political issues," Thornhill said. "We don't always know why, so I think she's going to help us see why different approaches end up resulting in disagreements about the issues."
There will be a luncheon held in the Hancock Welcome Center featuring a panel discussion with Bock and Black Friday, April 1 from 12-1:30 p.m. Seating is limited and will be on a first-come, first-serve basis, but attendees must register online for the luncheon at www.liberty.edu/divinity/.
According to Thornhill, the luncheon will be focused on the application part of political engagement.
"We're thinking primarily about how this works out in the local church," Thornhill said. "Again, when people disagree, how do we be sensitive to that disagreement, but yet also as a church body, think about and work through some of these things together?"
Thornhill believes the conference will be beneficial to understanding how Christians come to their political conclusions.
"I think sometimes we come to them already with a perspective, and sometimes we haven't really critically thought about why we hold a particular perspective. Sometimes it's something that we've inherited," Thornhill said.
Bock will stay after the conference for a lecture as well as breakout sessions Saturday, April 2 for the ETS Regional.
The Everyday Theology Conference and ETS Regional are two separate events, and sign-ups can be completed online. Both events are free and open to the public. For more information and to sign up, go to www.liberty.edu/divinity/.
Sweeney is a feature reporter.