Lady Flames oust Lancers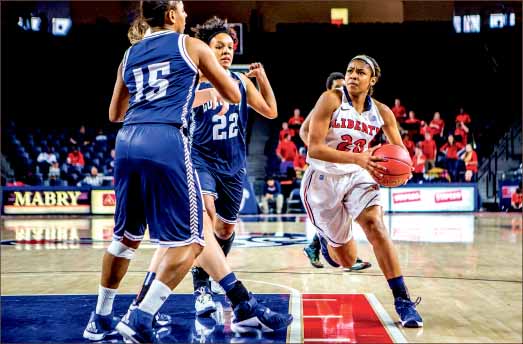 Head Coach Carey Green gets 400th career victory in 67-47 rout of Longwood
Liberty University women's basketball Head Coach Carey Green grabbed his 400th career win when the Lady Flames defeated the Longwood Lancers 67-47 Feb. 27 at the Vines Center.
"I'm really thankful that God led me here to Liberty," Green said. "I think it's the greatest school in the world, and the administration has supported us and I've been blessed to be in the world of these young ladies."
The Lady Flames won the game in part to Green's trademark of domination in the paint and out-rebounding opponents.
"There is a blueprint to success and part of that is to do a dominating job on the boards and that really helps out," Green said. "There's a lot of other things in the complexity of winning ballgames, but (rebounding) is certainly one we focused on. It's almost like every player that played got a rebound. Our post players did an exceptional job rebounding."
The Lady Flames were first in the Big South in rebounding margin at plus-9.8 rebounds per game coming into the game, and they put on a clinic against the Lancers, out-rebounding them 58-33 on the afternoon.
"(The Lancers) were definitely smaller, so that gives us an advantage," senior center Ashley Rininger said.
The Lady Flames also dominated around the basket, scoring 38 of their 67 points in the paint. Rininger led the team in scoring with 14 points and grabbed five rebounds. Senior center Katelyn Adams chipped in 12 points while snatching nine rebounds. Fellow senior forward Catherine Kearney added eight points and five rebounds.
"Coach Green has always had an emphasis on rebounding and pounding the ball inside so we can get open outside shots," Adams said.
The Lady Flames got the offense going in the third quarter, shooting 67 percent from the field.
"We executed our offense much better in the second half," Green said. "We had a positive assist-to-turnover ratio because we took care of the ball and executed and went to the boards."
Much of the offensive execution was credited to freshman guard Brooke Alexander, who scored a career-high 13 points and grabbed five rebounds.
The Lady Flames have won their last two games after dropping their previous three. The team now turns its attention to the last two scheduled games as it attempts to earn the number one seed in the Big South conference tournament and the conference regular season title.
"It's exciting that we are in this position," Green said. "Our hands are still full with the challenges in front of us. We just need to take care of business."
Rininger, Adams and Kearney have been together for the past five years and will play their last home game together along with senior guards Sadalia Ellis and Jaymee Fisher-Davis March 5 at 2 p.m. in the Vines Center against Presbyterian.
"We were here when he got his 300th win and now we are here for his 400th win, so it's just exciting," Adams said. "It just shows what he has taught us. It's crazy that it's coming to an end. (I'm) just going to do what I can for the team and finish strong."
The Lady Flames control their own destiny and are tied for first place in the Big South with UNC Asheville. They will play next Tuesday, March 1 in Rock Hill, South Carolina, against Winthrop at 7 p.m.
Dillard is a sports reporter.