Winning the weekend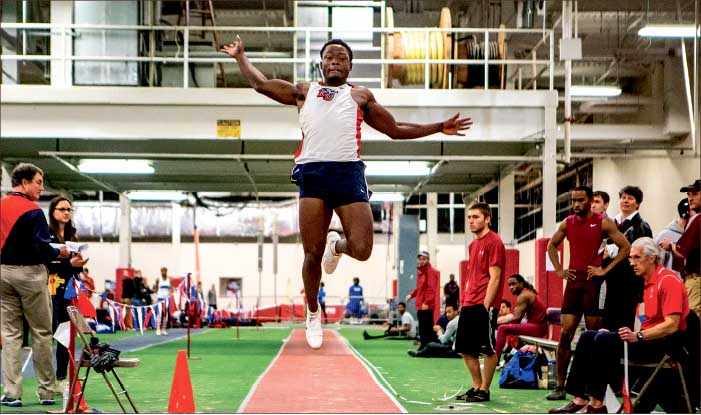 Liberty's track and field team wins 19 events during record-breaking invitational
Athletes from 20 different colleges along with three former Olympians took part in the record breaking Darius Dixon Memorial Invitational on Friday and Saturday, Jan. 29 and 30.
The second annual event, which took place in the Tolsma Indoor Track, saw Liberty enjoy enormous success. Liberty's men's and women's track and field athletes combined to win a total of 19 events.
In addition to their winning ways, Liberty set nine meet records and notched a facility record in the process.
Fresh faces stole the show on the first day of the competition. Liberty's winning men's 4 x 800 team consisted of freshman Bradley Prentice, sophomore Andrew Crowell, freshman Michael Todd, and redshirt sophomore Colin Schultz. The group set a facility record time of 7:45.73 that crushed the previous record by more than three seconds.
Liberty sophomore Mariel Finger posted a meet record in women's pole vault by accomplishing a personal-best height of 12-5.5. Finger is now tied for second in Liberty's all time indoor pole vault standings.
Day two of the invitational was noteable for Liberty redshirt junior Dana Mercer. She won the women's long jump contest for the second year in a row with a personal-best distance of 18-11.25, setting a meet record. Mercer also managed to finish third in the women's 60-meter dash Division I final with a time of 7.86 seconds.
The Lady Flames took the top four spots in the women's 400. Senior Corinn Bedell set another meet record by finishing first at 58.03 seconds. Sophomore Olivia Behyemer, freshman Nicole Leonzo, and redshirt senior Ansley Gebben took home second through fourth place, respectively.
The Liberty men's team dominated field events throughout the weekend. Fred Fulton, a redshirt senior, not only won the men's shot put competition at 53-2.25, but also finished second in the weight throw contest at 58-1.75
Fellow Flame David Scouten, also a redshirt senior, won the weight throw with the same mark of 58-1.75. Scouten won due to his second best throw eclipsing Fulton's best.
Furthermore, junior Stephen Racanelli set a meet record for the second consecutive year in the men's 400. His final time clocked in at 49.23.
Liberty pointed its success to honoring former teammate Darius Dixon. Tragically, Dixon died just two days after competing in his first collegiate track meet at the age of 18.
A picture of Dixon running on the very same surface where athletes competed in his honor hangs at the center of the indoor track facility's wall.
Head Coach Brant Tolsma said Dixon had a lot of potential as a young walk-on freshman.
"We had high hopes for his development and we were pleased even how he looked in his first meet," Tolsma said. "He was one of those kids that we wanted to give opportunities to."
Wrapping up a weekend of competition, the Flames enjoyed a dinner in the club level of the Williams Stadium tower to remember Dixon. In attendance were his parents Herman and Shineka.
The Liberty track and field family, which still includes Dixon's parents, plans to continue the memorial event into the future.
"The fact that we're remembering him is a good reminder that life comes with no guarantees," Tolsma said. "Everyday you have is a blessing and an opportunity, and you never know when your last one is."

Keating is a sports reporter.