Lady lacrosse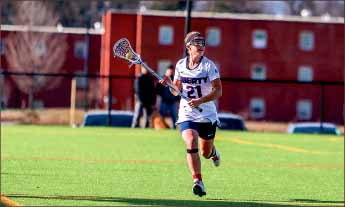 Flames say family is the key to success
Coming off of its best year in program history, the Lady Flames lacrosse team is looking to make history this season.
Liberty finished last season with a record of 9-11, the best mark in the program's short six-year history. The team went 5-2 in Big South conference play. The record year propelled them to the conference championship where they would lose to rival Winthrop by a score of 13-8.
"This upcoming season is going to be one of new faces, new games and hopefully a lot of success," senior midfielder Kallie Britton said.
Britton, a captain for this year's squad, is one of three sets of sisters on the team.
Kallie Britton is the older sister of Abby Britton, and both are the cousins of fellow teammate Paige Britton. Katy Pridemore is the older sister of freshman newcomer Hannah Pridemore. Victoria Tickle, a junior, is also welcoming her younger sister Brittany Tickle to the team this season.
On a personal level, sharing this experience with family helps spur Kallie Britton's aggressiveness.
"I'm more competitive with (Abby and Paige) than anyone else on the team," Kallie Britton said.
Duke transfer Callie Francis, a redshirt-senior captain, said the theme of family reaches throughout the entire team.
"I definitely consider this team to be a family," Francis said. "I feel like I can be myself completely in front of everybody. Some of the freshman I feel like are my younger sisters already."
Having a tight-knit squad with good team chemistry will be a must for Liberty as the team will play a very difficult schedule this upcoming season.
The team will begin the season logging countless travel miles, as the first five games will be played away from Lynchburg. The first game of the season is against in-state rival Virginia Tech, a team that Liberty has never defeated.
Next, Liberty will travel to the University of Richmond followed by a visit to Virginia Commonwealth University. The team will then travel to play Navy who went an astonishing 15-5 last year. Old Dominion, 13-5 last season, is the next stop on the trip.
The road trip ends with a bout against Notre Dame, ranked seventh in the Nike Lacrosse Magazine Preseason Top 20.
Kallie Britton explained that playing top-level teams is key to raising the caliber of the fairly new program at Liberty.
"When we play teams like Navy, Notre Dame, Virginia Tech, they're good teams, so we run with them," Britton said. To be able to keep up with teams like that is an accomplishment because they're good."
Big South play opens up with a rematch of last year's conference championship: Winthrop versus Liberty.
"I think that will be a very intense game, and it will set the tone for the rest of conference play," Kallie Britton said.
Helping set the tone for success in the Big South is a trio of Big South Preseason All-Conference picks. Attacker Katy Pridemore, Kallie Britton and redshirt-senior defender Colleen Ekert all claimed spots on the honorable list.
Picked to finish fourth in the league, the Lady Flames are confident to write the script to a new era of winning.
"I'm very hopeful for this season," Francis said. "Our mantra for this year is 'chasing history.' I think we're going to make it even farther than last year because of all the confidence and experience we have this year."
According to the team's four captains, the goal for the season is to win the Big South and advance to the national tournament.
As for wins and losses, Francis confidently predicted an undefeated season.
Liberty will open its season at Virginia Tech Feb. 13.

KEATING is a sports reporter.