All aboard the Flame train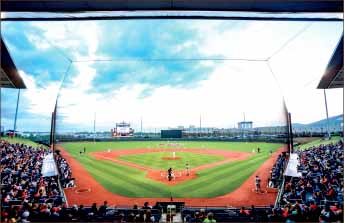 Liberty Baseball is looking for its third regional appearance in four years
Spring is in the air and baseball is here. The Flametrain pulled out of the station in Tampa, Florida for a weekend series against the South Florida Bulls starting Feb. 19. The Flames dropped the opening series to the Bulls 2-1.
The Flames, who have managed to win 40 games in three of the last four seasons, have a tough schedule ahead of them facing 2015 Regional participants Maryland, Coastal Carolina, and Radford along with 2015 National Champions, Virginia.
The Flames return 17 players from last year's roster, and look to return to a regional for the third time in four years. If they do, seniors Carson Herndon, Dalton Britt and Austin Bream will be the first class ever to go to three regionals during their tenure at Liberty.
Herndon, a right handed pitcher who was the Flames Saturday starter two years ago before undergoing Tommy John surgery last year which kept him out, will be a key leader of this year's pitching staff
according to pitching coach Garrett Quinn.
"(Herndon) has a lot of experience, he is a senior, and he has the capacity to lead," Quinn said. "I am really hoping he steps up and leads the staff and just kind of brings some of his toughness and his competitiveness to everybody else."
Shortstop Dalton Britt will be the key to success of the offense. Britt, who has been the Flames starting shortstop for the past three years, is ready to enjoy his senior season.
"I am just enjoying the little things, coming to the field everyday, the guys, a lot of things that I took for granted when I was younger," Britt said. "Just stuff as a freshmen and sophomore that I did not get excited for I now am because it is a last ride and just being able to come in everyday with 35 of my best friends and just being able to get after it together. You are not always going to remember the baseball things but you will remember the locker room stuff."
The conductor of the Flametrain, Head Coach Jim Toman, who is entering his ninth season at Liberty, is three wins shy of 300 career wins at Liberty. If he accomplishes this he will become only the second coach in Liberty history to achieve this feat joining Al Worthington.
After missing out on a regional last year, Toman believes this team has a little something extra to play for.
"We had a really good season last year until the last five games when we went 1-4," Toman said. "In college baseball you lose a lot of RPI points when you lose at home so we actually went from 32nd in the RPI late in the season … ending up at 63rd or 65th just because our last five games did not go the way we wanted them to. We are working extremely hard and I think the guys have a little bit of a chip on their shoulder because they know that we should have been in a regional last year, which would have been three years in a row."
There are three keys to success for the Flametrain to get back on the tracks, according to Toman.
"Pitching comes first, then you have defense, then the offense comes last," Toman said. "If we can have guys who throw strikes and pitch well we have usually been pretty good defensively and I think our offense is primed to have one of our better years."
The Flames will play their home opener in Lynchburg Feb. 23 at 3 p.m. due to poor field conditions at William and Mary.
The Big South Championship will be hosted in Lexington, South Carolina at the Lexington County Baseball Stadium May 24-28.
Scoggins is a sports reporter.