Convocation recaps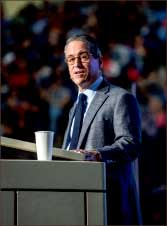 Nov. 18
During Convocation Nov. 18, students learned from Erin Kelly what God has done through her family's life and from Rabbi Daniel Lapin how earning wealth is consistent with the Bible.
Erin Kelly, daughter of the football legend Jim Kelly, is a Liberty student and author. Erin Kelly and her mother, Jill Kelly, recently released a New York Times Best Seller entitled "Kelly Tough."
Erin Kelly spoke to students about how God has used the pain in her and her family's lives for his glory. Her experiences are documented in the book.
"'Kelly Tough' is really my heart on paper," Erin Kelly said. "(It's) what God has done through our family."
Erin Kelly described the trials of watching her younger brother suffer and die from Krabbe disease when he was eight years old and then witness her father go through cancer a second time. She said God has given her family a chance to share these trials and encourage people through what God has done.
"The platform (God) has given us, I believe (is) far beyond football," Erin Kelly said. "Yes, my dad was an amazing football player, but God has used that platform to make his name known, to make his name known above all things. It's not really about the Kelly family. It's really about God's story in the midst of it all."
Convocation continued as President Falwell introduced the main speaker of the morning, Rabbi Daniel Lapin.
Lapin, a friend of Dr. Jerry Falwell Sr., told students how earning money is pleasing to God.
"Step number one in the principles of making money is to believe in the dignity and morality of making money," Lapin said. "Making money is not taking money. Taking money is one thing. Making money means you are delivering value to another one of God's children. You are caring for another child of God."
Lapin said making money encourages God's virtues, but entertainment today indoctrinates people with the message that businessmen are evil.
"We've all been impacted by popular entertainment's slandering of business," Lapin said. "Even the language of popular culture is horrible."
Lapin, president of the American Alliance for Jews and Christians, said when society says, "give back," it gives the impression that someone is taking from society when making money, but that is not the case.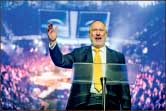 "Profit isn't plunder," Lapin said. "It's good. It's evidence that you are pleasing God's other children."
Lapin stressed the importance of connecting with one another in business. He said God wants us to connect with one another and blesses us with the incredible gift of financial abundance if we try to take care of his other children using the abilities he has given each person.
"In God's blueprint for affluence, specialization is crucial because it makes us need one another," Lapin said. "It makes us love one another."
Lapin closed with a re-emphasis of the point of how vital Christians are to the U.S. economy.
"I do believe that the economic vitality of the United States of America absolutely depends upon the restoration of a vibrant fervent Christianity," Lapin said.
Nov. 20
Mark DeMoss, founder of The DeMoss Group and author of "The Little Red Book of Wisdom" spoke in Convocation Friday, Nov. 20 about what's in a name.
President Falwell introduced DeMoss and talked about how they both lived on the same residence hall in the 80s. Falwell explained how their dads were best friends. The DeMoss Hall academic building is named after Mark DeMoss' father, Arthur S. DeMoss.
"Mark was so close to my parents that my parents used to call him their third son," Falwell said.
Falwell arranged for 500 student leaders on campus to get a copy of "The Little Red Book of Wisdom.
Mark DeMoss began his message by saying how thankful he is for Liberty University and how the university continues to play a huge role in his life.
Mark DeMoss said when he came to Liberty as a student after he lost his father, the Falwells treated him like family.
"The time I spent with Dr. Falwell those eight years traveling the country serving him, representing him, really gave me the foundation and the experience to do what I do now and to start a public relations firm," Mark DeMoss said.
"I am intrigued with names," Mark DeMoss said. "Our firm gets paid a lot of money to create names, to promote and protect names. A big part of public relations is reputation management."
Mark DeMoss read a list of the 10 most followed people on Instagram, which included names such as Justin Bieber and Taylor Swift.
"Are these people finding cures for cancer?" Mark DeMoss asked. "Are they leading nations? Are they serving the poor? Are they writing meaningful books? Are they thought leaders? Clearly some of them are famous merely for being famous."
He then read a list of names he told students they wouldn't recognize.
"The main difference is that these nine people are dead," Mark DeMoss. "Their names came from a cemetery from cemetery grave markers I looked at during a recent visit in a cemetery in Atlanta."
Mark DeMoss pointed out that even though these people died before social media, there is some notation for the kind of life they lived.
"You may be sitting here in this big arena thinking, 'Nobody knows my name,'" Mark DeMoss said. "'This is a big school. I do everything with a card and a number. I'm not on an athletic team. I'm an introvert not an extrovert.'"
Mark DeMoss shared a poem called "Everyone Has a Name" that was written by the Jewish poet Zelda in concern that Holocaust victims were largely unknown.
Mark DeMoss shared with students six things he knows about their names, the first being that God knows their names. Secondly, they did not chose their names. Thirdly, ultimately each person gives their name meaning.
"When we leave the hospital at birth with our given name, it's as if we are given an empty bucket, and the rest of our lives we fill the bucket with positive or negative things that give meaning to our names," Mark DeMoss said.
Mark DeMoss said one of the ways students give their name meaning is through social media, but students should be careful about the way they present themselves online.
"Would you want your social media feeds to replace your resume when you graduate and start looking for a job?" Mark DeMoss asked. "Employers are increasingly using social media to screen applicants and candidates."
Mark DeMoss said he could say with certainty many students would not be chosen for certain jobs simply based on their social media habits.
"Every post is really another entry on the resume and biography of your life," Mark DeMoss said. "Post by post, day by day, you are building a patchwork quilt that becomes your personal brand."
Mark DeMoss said the fourth thing he said he knows about each person's name is that they can make a bad name good. The fifth thing he said is that they can also make a good name bad.
The last thing that he knows about each person's name is that if they call themselves a Christian, they now carry two names.
"We should be more about (God's) name than our own," Mark DeMoss said.
Dec. 2
Students at Liberty University had the opportunity to hear from Darrin Patrick, vice president of the church planting organization Acts 29, Dec. 2 during Convocation.
"(Patrick's) books on church planting were influential in (my) life," David Nasser, senior vice president for spiritual development, said.
Patrick, an author and pastor of The Journey, a church in St. Louis, Missouri, said God grows us holistically, gradually, internally and communally. He taught from Galatians 5:16-6:2 and explained to students that God is like a surgeon who cuts impurities out of everyone's lives to make their lives reflect him.
"We grow spiritually the way fruit grows naturally," Patrick said.
Growing holistically means that the fruit of the Spirit grow together, Patrick said. However, all of the fruit of the Spirit do not grow at the same time. It is a process that takes place over a period of time.
"You measure your maturity by your weakest trait," Patrick said. "God wants to grow us in our weakness … and God wants to grow you in every part of your life."
According to Patrick, growth happens gradually. Patrick prompted students to ask their peers, mentors, family and friends where they had grown over the course of the semester.
"I think that growing in our faith is a step-by-step process that involves seeking God daily," senior Sylvana Gorgui said. "Through reading the Bible and praying we can know God more.
Asking my friends where they see growth allows me to actively see where God is working in my life."
Striving toward the Lord means sin is going to lessen, Patrick explained. Ultimately, sin has been put to death and sin stayed in the grave. However, putting sin to death means constantly crucifying the fleshly desires of this world.
"Do we get to be in charge?" Patrick asked. "That is our flesh. Or does God get to be in charge? That is the Spirit. That thing in you that needs to die, it's dying, but it's gradual."
Lastly, growth happens in community, Patrick said. He explained that people are one of the most valuable resources.
He said there is great value in having people in your life that will say when a mistake has been made and explain where growth is needed.
"If you want to grow, you have got to get around people in your life … (that are) helping shape who you are," Patrick said.