Timeless teaching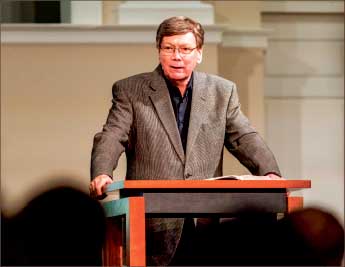 Dr. Ed Hindson has served as a Liberty faculty member for more than 40 years
If you enter the lobby of Dr. Ed Hindson's office, the first thing you will see is the collection of paintings hanging on the walls. Art showing the stories that dramatically portray Jesus walking on water and washing disciples' feet are eloquently framed, and evenly placed above the desks of assistants.
Inside his office, the School of Divinity Dean and long-time professor at Liberty University, showcases a vast collection of books prominently displayed on large, wooden bookshelves that take up most of the wall. The books, similar to Hindson's own area of authorship, cover an innumerable amount of subjects in Christian scholarship.
"My interests in writing are quite broad," Hindson said, glancing at his collection of neatly-stacked books. "I've written on subjects ranging from Philistine archaeology to Bible prophecies and everything in between."
Hindson has taught more than 100,000 students residentially and online. Most students know him for teaching Old Testament Survey, an introductory course, but his resume also includes teaching in-depth classes on specific books of the Bible including Matthew and Revelation.
His expertise in Christian studies and theology stems from his three doctoral degrees in philosophy, ministry and theology. Hindson studied under respected Christian theologians such as Norman Geisler and Walter Kaiser, who he said were some of his favorite teachers, and whose teaching style influenced his own.
Since Hindson's first time teaching at Liberty in 1974, he has built a strong reputation among theologians, speaking at the country's largest churches and receiving an Evangelical Christian Publishers Association Gold Medallion for excellence in Christian authorship. His career at Liberty reached its apex in 2013 when he was offered the job for Dean of the School of Religion, replacing Liberty cofounder Elmer Towns.
"I was surprised when Jerry (Falwell Jr.) offered me the job," Hindson said. "But I accepted because I felt a real sense of obligation to the university to strengthen and diversify our programming of the biblical and theological studies."
Since being named dean, Hindson has pursued building a strong relationship with the heads of other schools at Liberty. Last year, he oversaw the merger of Liberty Seminary and the Liberty School of Religion to create the Liberty School of Divinity. He said the advantage to this is being able to let experienced professors teach at both the graduate and the undergraduate level.
The merger comes at a crucial time, too, Hindson noted. Due to the changing questions of his students over the years, Hindson said that he sees a much greater need for the flexibility of professors. Undergraduate students, he said, are wanting to know answers to theological questions that students years ago would not look at until studying for their doctorate.
"I try to know my audience when I'm lecturing and try to anticipate the questions they may have," Hindson said. "I'm seeing the nature of students' questions change because of the influence of a more aggressive atheism and an angry secularism that is trying to undermine the credibility of the Christian message."
The result of a Christian school that does not adapt to the new questions of the millennial generation, Hindson said, is the watering down of Christian faith and a rise of liberal Christianity — something that Hindson believes Liberty has done a good job of preventing in the past.
"Teachers today have to be more alert on adding an emphasis of effective apologetics and biblical truth in a culture where tolerance undermines the evangelical movement," Hindson said. "My concern is that conservative Christianity will lose its strength."
Hindson has had experience with such schools of religion that do not exhibit the same conservative standard that Liberty does. He has spoken at many nonsectarian schools of religion, including the Harvard School of Divinity and Balliol College, a constituent school of Oxford University.
Hindson's speeches at Harvard were well received. He was given a standing ovation from the crowd after his speeches on evangelism and social involvement. At Balliol, Hindson met with highly respected British and American religious scholars such as Martin Marty and the Bishop of London.
Hindson, though, does not consider the defining point of his career to be his visits to the world's most prestigious universities or his authorship of more than 40 books.
"The high point is definitely teaching here at Liberty," Hindson said. "Students come back to me 20 or 30 years after I've taught them and tell me how they've been serving the Lord since then. It's the greatest fulfillment you could possibly have."
Hindson said that he is now dedicating his time to preparing the move of the School of Divinity into Liberty's Freedom tower — to be completed in 2017 — along with continuing to recruit top quality, conservative teachers to serve in the divinity school.
Young is a feature reporter.