Embracing struggles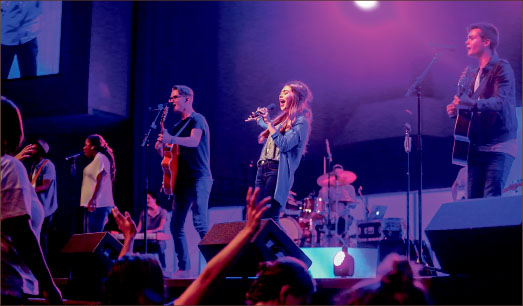 Clayton King returns to Liberty's campus for his 11th Spiritual Emphasis Week
Liberty University students gathered together in Thomas Road Baptist Church and the Vines Center for four services of worship and learning during Spiritual Emphasis Week 2015, an annual tradition at Liberty.
Back for his 11th consecutive Spiritual Emphasis Week, pastor Clayton King preached on the topic of God's strength being made perfect in our weakness.
"My goal this week is to help the students understand not to waste their weakness," King said. " … (T)hey can be stronger by embracing struggle for the glory of God.
Ultimately I really hope that they see Jesus more clearly and that they have a deeper love for him and the gospel as a result of Spiritual Emphasis (Week)."
King preached from 2 Corinthians 11-12 in which Paul boasted in the afflictions and weakness he dealt with because God was strengthening him through the struggles.
He illustrated how God helps struggling people through such difficult situations by sharing the personal story of how many of his relatives, including his mother and father, all died in a short period of time.
King also discussed the benefits of having to suffer through undesirable circumstances.
"God is going to have to use pain where you couldn't learn without it," King said during Monday evening. "God can take a bad thing and get a good result from it."
After more than a decade of preaching at Spiritual Emphasis Week, King has seen the continual benefits of gathering together as a student body for consecutive nights of worship and learning.
"I think (Spiritual Emphasis Week) sets the tone for the semester and for the year," King said. " … (B)eginning the semester while peoples' schedules are still free enough that they can attend some extra worship services and … focus on the gospel and on Jesus … really helps set the tone and the direction for the semester."
King said he appreciates how Liberty stands firm on the importance of studying Scripture together as a student body.
"I've seen some Christian schools move away from any chapel or convocation," King said. "I've seen some other schools do away with Spiritual Emphasis Week. I think that they lose the value of bringing everyone together at one time so that everyone can share a common purpose, a common vision and so that everybody can be on the same page and hear a message from Scripture that encourages them. I think there is so much value in everybody in the room gathering to focus heads and hearts on Jesus."
Dan Bolton, the director of Spiritual Programs, also sees the impact such a week can have on the university.
"It's (also) a time for students who are just new to campus," Bolton said. "Some of them are away from home for the first time (and) others know the system. … (It is a) time to come to get refreshed, energized (and) get refocused on the semester."
To ensure that students continue to grow throughout the rest of the school year, King emphasized staying rooted in Scripture and having genuine friendships.
"If you want to stay close to the Lord, you have to work at it," King said. "You have to prioritize your relationship with him everyday. You have to have an ongoing conversation with God throughout your day. … Let the Bible challenge you and encourage you, convict you, lift you up when you need it. Make sure (you) are living in genuine friendships with other believers."
Rodriguez is the news editor.