Creating cultural competency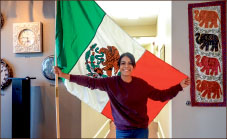 The Center for Multicultural Enrichment plans activities for Hispanic Heritage Month
Liberty University's Center for Multicultural Enrichment (Center4ME) is joining millions across the U.S. in celebrating Hispanic Heritage Month from Sept. 15 – Oct. 15.
The Center4ME has a variety of activities available for the entire celebration month, which kicked off Sept. 16 in front of DeMoss Hall. Activities include trips out of town, worship services and Fun Fridays. The Hispanic Heritage Month Kickoff is the largest event for the month, according to Kerensa Huffman, the Center4ME's associate director of cultural competency and assessment.
"We do (a kickoff) with every single heritage month, and they're always right in front of DeMoss," Huffman said. "It's like a miniature festival that includes food, sometimes a performer, different activities, games (and) information. Kickoffs are great because you can walk through, grab a snack or a drink, learn a fact, hear about the different events and then keep going because they're right after Convocation."
Some of this month's past events included the Kickoff, two Fun Fridays, a trip to Washington D.C. called Fiesta D.C., and Merge: A Latino Worship Service. Looking ahead, students have the opportunity to attend a Deliberative Dialogue with Dr. Elias Moitinho Sept. 29, the Latin American Open House Sept. 30, and the last Fun Friday, Oct. 2.
Celebration of Hispanic Heritage Month at Liberty began several years ago and is geared toward Liberty students. The team at the Center4ME focuses on three main aspects — awareness, knowledge and skills — throughout all the events and activities in order to increase students' cultural competency and prepare them for interacting with others of different nationalities after college.
"We focus on awareness, knowledge and skills because … when you come to LU, you're going to get an awesome education, but we also want you to be able to leave with a great understanding of how other people think," Huffman said. "That's the behind-the-scenes piece to this."
Going beyond that, the heart of Hispanic Heritage Month at Liberty is to train students to connect with others of different nationalities for the purpose of sharing the gospel of Jesus. The goal is that students will not be hindered by cultural barriers out of inexperience, but instead they will have the experience and knowledge necessary to connect with them on a spiritual level.
"When (the students) do meet people that think differently than they do, (they're) going to have the ability to share (their) faith and live out (their) faith without going, 'Oh my goodness, what are they doing? What are they talking about?' because (they're) not exposed and (they) have never experienced it," Huffman said.
Coming to Liberty as a former youth pastor in the D.C. area, where the congregation was only 40 percent Caucasian and a mixture of many other nationalities, Huffman said she loves the image of heaven that shines through when people representing all types of nations worship God together. This was a main reason she took the job she currently holds.
"There were people from a variety of different political views and lifestyles," Huffman said. "Everything was very different, but they found the common denominator of Christ, and I want students to be able to walk away and be able to do that. (They are) exposed to different cultures so that they're able to engage and know that, foundationally, we're all about Christ, and it's okay if other people think differently than you."
Finally, Huffman said their intent is to have students of all nationalities come to these events, not only Hispanic students.
"People will often think that because they're not Hispanic, (they) can't come to these events," Huffman said. "The thing is, Hispanics are familiar with Hispanic culture. We want everyone to be able to be exposed and everyone to understand and get a feel for it."
There is still time for students to get involved with Hispanic Heritage Month at Liberty. For more information about the Center4ME or Hispanic Heritage Month, visit liberty.edu/studentaffairs/multiculturalenrichment and hispanicheritagemonth.org.
RITTER is a news reporter.