Appreciating culture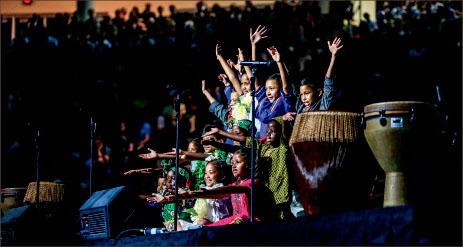 Global Focus Week provides diverse experiences
Liberty University students experienced the tastes and sounds of different cultures from around the world during this semester's Global Focus Week, held Sept. 7-11.
Culture Breaks took place each day over the course of the week and included opportunities for students to play global games, try chocolate from five different countries, learn phrases in different languages and taste coffees and teas from around the world.
David Williams, the coordinator of special projects for the Center for Global Engagement, has been planning this event since the end of the last Global Focus Week
in March 2015.
"The main purpose for Global Focus Week is to raise global awareness on campus," Williams said. "Tied in with that, there are a (few) other purposes — to help students learn and grow in their cultural knowledge, for them to also grow in their academic knowledge of different global subjects, and to have them grow in their ministry service."
One of the main events during the week was Global Talks, held Monday night in the Jerry Falwell Library, featuring four presentations from different organizations and professionals. The topics ranged from the use of aquaponics and storytelling to reach people from other cultures to the importance of understanding geography and conflict when traveling and working abroad.
"It's four pretty different subjects, so what I am hoping is (students) will not get a full download of geography … or a full history of the Israeli-Palestinian conflict, and they won't learn how to do everything with the aquaponics or the storytelling," Williams said. "What I'm hoping is that they get one idea from each one, and perhaps that idea can start a conversation."
Williams also hoped that the array of speakers and presenters during the course of the week would show students that there is more than one way to get involved globally.
"The main purpose is to help (students) understand that they can use their degrees and their skills to serve others overseas," Williams said. "They don't have to be the traditional type of field worker. They can use their passions and their skills to still cause an impact on the world."
The week came to a close Thursday night with the World Music Festival. The event was held inside due to rain, so the students packed the school of engineering, taking advantage of the free baklava pastries from Jordan while listening to musical performances by fellow Liberty students. Some of the performances from the night included an African drum ensemble, Libertad worship band, white yak mandolins and the Ntimbonara brothers.
Williams hoped that students would come away from the week's events with a new understanding of the world around them.
"More than anything, I would just like them to come off with a deeper understanding of God's heart for the world," Williams said. "That doesn't mean that all of them have to go on trips, (and) that doesn't mean that they all have to commit to working full-time overseas and spend the rest of their lives there. But at least … they will be able to learn to love their neighbor better. … If they can come away with that, then maybe 10 years from now it will lead to something else."
Editor's Note: The name was changed for security puporses.
LAPP is a news reporter.