Joining the club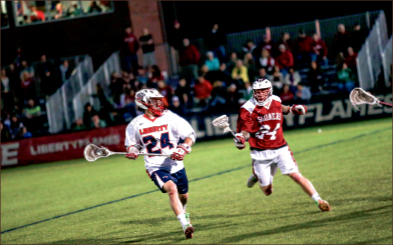 Flames lacrosse star answered God's call to attend Liberty
Brett Bernardo never thought he would end up at Liberty University.
"I was like a lot of kids who said I would never go (to Liberty), I don't want to go there, it's not for me and it's not what I want," Bernardo said. "I wanted to do my own thing."
The men's lacrosse junior midfielder was born and raised in a Christian home. Up until college, faith was incorporated into his life by his parents.
"I'd always known all the truths, but I'd never had to take care of it for myself," Bernardo said. "As I got into the college atmosphere, it made me learn that I was independent now, and I had to choose whether or not I was going to believe in what I've grown up in."
Bernardo chose to believe it, taking ownership of his faith for himself.
Attending and playing NCAA Division I (DI) lacrosse for Marist University, Bernardo found he was one of the few who was doing so. He sought out a Christian small group and other Christian friends. But as he grew spiritually, Bernardo sensed God was calling him to a different environment.
"One summer, I heard of Liberty somehow, or the idea of it came to my mind," Bernardo said. "I remember looking up their sports teams and seeing someone from the hockey team, I don't remember who, talking and bringing up the idea of playing for a team united under Christ. For some reason, that idea hit me deep."
Bernardo looked into transferring that summer, but still was not convinced. He returned to Marist in the fall.
"That semester was really a time of growth — of depending on God and trusting in God and leaning on God," Bernardo said. "Eventually, I came to the conclusion that maybe the best place for me, after all, was Liberty."
Transferring would mean leaving an NCAA DI lacrosse program for a club lacrosse team. Ultimately, Bernardo decided it was worth it, and followed God's call to Liberty.
"It was a big transition," Bernardo said. "The tempo and the pace of the game is just so much faster at that (DI) level, but training with that kind of environment and tempo for two and a half years has really helped me here. It's allowed me a little bit to bring my knowledge and what I know and help build the program, which has been really fun and cool."
Whatever challenge it has been, Bernardo has risen to it. The team captain led the Flames with 38 goals and 22 assists for 60 points during the 2015 season. Bernardo credited his teammates with putting him in optimal position to garner points and expressed his pride in their accomplishments this season and in recent years.
Beyond any aid his teammates have given him on the field, Bernardo is thankful for their affirmation of his decision to transfer to Liberty.
"I've grown a lot," Bernardo said. "I have guys on my team who are in the same place as me, trying to grow to spiritually. Being able to be around that has built for accountability. It's been really good."
Bernardo said he is thankful God led him to the Christian environment at Liberty, and with a 10-4-1 record, it is safe to say that Flames lacrosse is thankful for his
decisions well.
Bernardo and the Flames next game will be in the Southeastern Lacrosse Conference playoffs in Atlanta, Georgia April 24. The Flames are currently ranked 14th in the Mens Collegiate Lacrosse Association poll.

RUSH is a sports reporter.