150th anniversary of the Civil War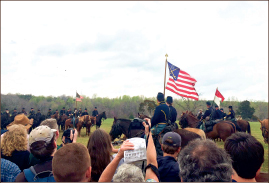 For the first time in more than 35 years, the Liberty Bell chimed April 9 during a ceremony in commemoration of the 150th anniversary of the Civil War.
Before the bell ringing began, reenactors offered a salute through a firing demonstration. Additionally, Dr. Wayne Kompelien, a professor in Liberty's School of Music, sang "America the Beautiful" for the audience gathered around the bell, and Virginia Sen. Steve Newman offered a short speech remembering the cost of the war.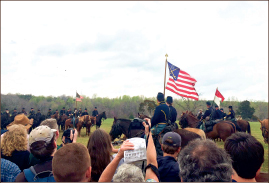 "I think it's fitting that these bells will toll not only for those that have given the sacrifice, but (for) the great struggles that occurred about 35 miles east of here (at Appomattox)," Newman said.
Following Newman's speech, the Liberty Bell, along with others across the nation, rang from 3:15-3:19 p.m., the approximate time when Gen. Robert E. Lee met Gen. Ulysses S. Grant at Appomattox Court House to surrender and end the Civil War. Each of the four minutes represented one year of the war.
Liberty professor Dr. Harold Willmington closed the event by reading a prayer thanking God for the unity of the U.S. 150 years ago and asking God to reunite the nation once again.
"Even more troubling (than the sacrifices of Americans during the war) is the knowledge that today, we are, as a nation, far more divided than in 1861," Willmington said. "Then it was but one issue, but today there are many. Back then, it took a multitude of bloody and brutal battlefields … to settle the issue. But what will it take today to unite us again? … There is no East or West, no North or South in Christ Jesus. Your son is both able and willing to unite us. … Remind all of us that we still have access to the same blessed foundation of faith they once had. It worked for them. It will work for us."
Brown is the editor-in-chief.