'Cruzing' out of the gate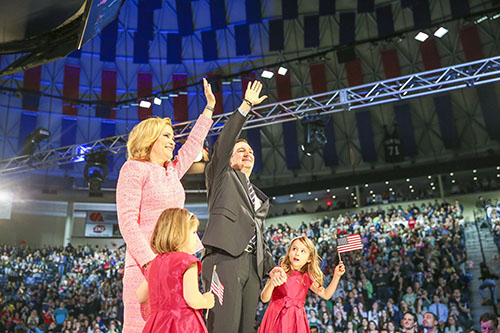 Presidential hopeful launches campaign from Liberty University
Texas Sen. Ted Cruz, 44, announced his candidacy for president Monday, March 23, at Liberty University's weekly Convocation.
"Today, I am announcing that I am running for president of the United States," Cruz said to an energetic crowd in a packed Vines Center, receiving loud applause and a standing ovation.
In announcing his bid, the 2016 hopeful, who placed third in this year's annual Conservative Political Action Conference straw poll, skipped the longstanding traditional step of first forming an exploratory committee.
"It is time for liberty, it is time for truth, it is a time to reclaim the Constitution of the United States," Cruz said.
Cruz, circling the stage in the middle of the Vines Center, declared "unapologetic" support for the nation of Israel, appealing to the evangelical presence on campus.
The announcement at Liberty is fitting, as Cruz has joked, "I'm Cuban, Irish and Italian, and yet somehow I ended up Southern Baptist," according to Dallas News.
Additionally, Cruz advocated for the protection of Second Amendment rights, protection from the National Security Agency and voiced disapproval for President Barack Obama's Affordable Care Act, a key piece of legislation for the president.
"Five years ago today, the president signed Obamacare into law, … and hours later, Liberty University went to court to stop that law," Cruz said, launching thunderous applause throughout the arena.
Cruz's request to launch his campaign from Liberty's campus signals that the university has reached a new level, according to Liberty President Jerry Falwell.
"We're honored that political candidates are now requesting to appear at Liberty," Falwell said. "We never had that happen years ago — we had to invite them. I think it's a testament to what Liberty students have accomplished and what they are accomplishing."
Quincy Thompson, Liberty's Student Government Association president, called Cruz's choice to launch his campaign in Convocation as "brilliant."
"To come to the world's largest Christian university is a statement in and of itself," Thompson said. "I think he was very clear in his commitment to Christ."
Cruz, advocating for traditional conservative values, said he was raised Christian, reminiscing of his journey to faith at Clay Road Baptist Church in Houston.
"Imagine a federal government that works to preserve the sanctity of human life and to uphold the sacrament of marriage," Cruz said, as students waved American flags, creating campaign fanfare.
Falwell said he believes Liberty has become a "regular stop" for politicians seeking national office.
"From a student's perspective, I'm very, very proud," Thompson said. "I'm blessed to be at a university that has such a major platform … that stands for Christian values."
In response to those who claim this is a political endorsement for Liberty, Falwell said the university plans to have many candidates visit before the 2016 campaign is over.
After Cruz's announcement, Falwell explained to many media representatives that Convocation is "not a worship service" and that "it's an opportunity to hear from speakers of all walks of life."
"Liberty, of course, by law, can't endorse candidates, and we don't plan to break the law," Falwell said.
According to Falwell, Virginia Gov. Terry McAuliffe, the originally scheduled keynote speaker for Monday's Convocation, was informed of Cruz's plan to visit. McAuliffe was given the opportunity to share the stage with Cruz or to remain the only speaker, in which case Cruz's event would have been moved to the afternoon, Falwell told the Champion.
"His folks decided that he had some important things that he wanted to say to Liberty students," Falwell said. "He wanted to come back when there wasn't so much else going on at Liberty."
According to Falwell, the governor's assistant is working with the university, and McAuliffe is tentatively scheduled to visit the campus in the fall 2015 semester.
GOINS-PHILLIPS is the opinion editor