Watson speaks against racism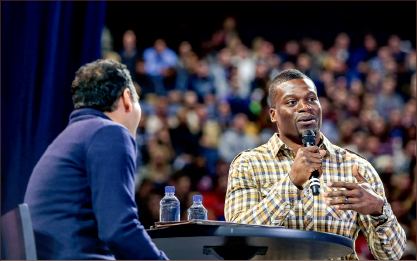 New Orleans Saints tight end shares thoughts on racial prejudice in America
Ben Watson, a tight end for the New Orleans Saints who just finished his 11th season in the NFL, tackled the issues of racism and identity in his appearance at the second Convocation of the semester Friday, Jan. 16.
In the question-and-answer-style session, Watson explained that in the NFL, players are constantly judged based on their performances, and it is easy for players to find their meaning in the game of football.
According to Watson, a torn anterior cruciate ligament that relegated him to the sidelines during Super Bowl XXXVIII in 2004 helped him realize that he was placing his worth in football and finding his identity in his job rather than in Christ. The struggle helped him understand that as a Christian, a job is merely "what you do."
"When you're a believer, that is who you are and your essence," Watson said. "What you do with your life is simply what you do. You are a Christian. You are a believer.
You are a child of God. You are all those things. What you do is become a doctor. What you do is become a lawyer. What you do is teach, be a pastor. What I do is play football. … What I do doesn't change who I am and who God sees me as. … We are God's children. We are Christians first, and then what we do flows from that."
Watson encouraged the audience to find an identity in Christ rather than in any temporary satisfaction.
"Make sure you know your identity is in Christ, so that when you get laid off from your job, or when you get a raise from your job, or when things don't go right, you're not up and down, up and down," Watson said. "… If (your identity is) not grounded (in Christ), you're going to be all over the place. You're gonna be like a leaf blown by the wind."
Watson also spoke about his Nov. 25 Facebook post, which has garnered attention from around the nation. The viral post came in the wake of the grand jury decision about the shooting of Michael Brown in Ferguson, Missouri.
Once Watson heard the news of the decision in late November as he walked out of the locker room after a Monday Night Football game, he cautiously began to record his thoughts on the incident.
"I kind of hesitated to even write it from the beginning," Watson said in an interview. "I didn't quite know what to say. I had so much on my mind. But then, once I started putting it on paper, I really felt like this is something that I want to say. I don't know how it will be received. I don't know if it's for anybody else, but I need to flesh these thoughts out."
According to Watson, it took him approximately one day of writing on and off to craft the post, which puts into words his emotions and the reasons for his reactions. The letter begins with the emotions of anger and frustration and shows a journey to hopefulness and encouragement Watson has found in the gospel message.
Though the parts of the post pertaining to sin and salvation have impacted many people, Watson said his decision to include the material was not so simple.
"There was a little hesitation, especially when it got to the gospel," Watson said. "I'm not happy to say that, but there was a little hesitation. (I thought), 'How are people gonna receive the gospel?' (Then) I said, 'Hold up, hold up. Why am I worried about this? This is the truth.' … So I just sent it out, and it's been amazing what God has done through it."
The post has been shared nearly 475,000 times, and more than 860,000 people have liked it. Additionally, according to Watson, Facebook personnel had informed him at one point that his post received more than 40 million impressions.
"Everybody could kind of find some emotion in there that resonated with them," Watson said. "I think that's why it was so appealing to so many people."
In all of the attention the post garnered, Watson said he has been most encouraged by the responses of those in the NFL.
"The biggest (encouragement) just came from my teammates saying — whether they're white, black, young or old, (and) coaches (were) the same way — 'You know, that's how I felt. I just didn't quite know how to say it,'" Watson said.
According to Watson, he chose to write the post after he realized the deep roots of the issue of racism.
"The thing about race is, in this country, it runs very deep," Watson said in Convocation. "It's something that's kind of like our black eye that we try to cover up with the eye patch instead of really dealing with it."
Instead of facing racism with societal and traditional means, however, Watson explained that people in the U.S. must address the root of the problem.
"Racism is simply a symptom," Watson said. "It is a symptom of a disease, and the disease is sin, and it is a disease that we are all affected with from birth. … Until we deal with that issue (of sin), we're just putting Band-Aids on bullet wounds."
And according to Watson, the only cure for the disease is found in the center of the gospel.
"(I)'m encouraged because God has provided a solution for sin through his son Jesus, and with it, a transformed heart and mind," Watson wrote in the Facebook post for which he has become famous. "One that's capable of looking past the outward and seeing what's truly important in every human being."
BROWN is the editor-in-chief.