Striking success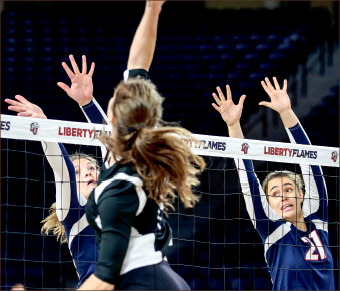 Lady Flames are proving to be the best in the Big South
With a less than satisfactory 11-18 2013 season in the books, the Liberty women's volleyball team was looking for a turnaround in 2014.
Through 28 games so far, the Lady Flames have done exactly that.
With nine games of Big South Conference play completed and all of nonconference play finished, the Lady Flames have won 22 games, while only dropping seven. They just lost their first conference game in a Oct. 31 matchup with Radford.
The Lady Flames were the second team in NCAA Division I to reach 20 wins, trailing Colorado State University by a single day.
According to Head Coach Shane Pinder, the 2014 Lady Flames have increased both their offensive and defensive production, creating a well-rounded team.
"This year, we are more offensive," Pinder, the winningest coach in Liberty history, said. "We can score all the way across the net. Defensively, our numbers are up. We are one of the top defensive teams in the league. When you put the offense and defense together, it gives you a chance to be pretty good."
Offensive production has been a team effort. However, redshirt junior outside hitter Caroline Douglas and junior setter Caila Stapleton have been main contributors to the Lady Flames increased numbers.
Stapleton leads all Big South players with 1,054 assists. As of Oct. 29, she was the only player to have reached 1,000 assists during the season. Douglas leads all of the Big South with 442 kills, placing her fourth in total kills in NCAA Division I.
Yet Douglas' performance on the court is only part of her contribution to the team.
"(Douglas) can score the ball," Pinder said. "She ends plays for us. Teams have to game plan for her, and while they game plan for her, it opens up other attackers to be able to score as well. (She is) a great leader. It's not just about her. She's passing it on, which is huge."
After only joining the team this year, freshman Hannah Weidner and transfer Jade Vorster have also made significant contributions.
Vorster is second in the Big South in total blocks with 130. The junior from the University of Hawaii has also recorded 213 kills for the Lady Flames.
Weidner is seventh in the Big South with 3.36 kills per set. She has also been named the Big South Freshman of the Week on three separate occasions this season, yet she acknowledges her teammates' roles in the success.
"I am very grateful for the opportunity … to put Liberty on the board," Weidner said. "I know (I) couldn't have gotten this award without any of my teammates, because they put me in a position to be successful."
After coming off a tough loss to Radford in the Big South semifinal last year, the Lady Flames were filled with a desire to not only improve their record, but also their overall enjoyment of the sport.
"Last year, because of losing, we just didn't have much fun," Douglas said. "So one of the main things going into this season was to focus on our team and our relationships and coming together. Win or lose, just having fun. And hopefully in that coming together, we would be able to fight together and win some games."
Team chemistry has also been a major improvement, according to Douglas.
"I feel we connect to each other well, on the court and off the court," Douglas said. "We have close relationships, and because of that, I feel we can trust each other on the court. We know that everyone is going to work as hard as they can in the weight room, work as hard as they can in the classroom and on the court. We can trust each other to do what we have to do to put ourselves in the best position possible to win."
In the Lady Flames biggest win to date, they took down the Radford Highlanders in their first matchup of the season.
"I think it was important because it set the tone for the rest of conference play," Stapleton said. "Going out and taking out the preseason favorite was really good for our confidence."
With multiple conference games and the Big South Tournament left on the schedule, the Lady Flames are looking to continue their winning ways by taking one day at a time.
"At the end of the day, we are not trying to get it all at once," Pinder said. "Win the moment today, and let's let tomorrow take care of itself."
RODRIGUEZ is a sports reporter.