Taking a brave stand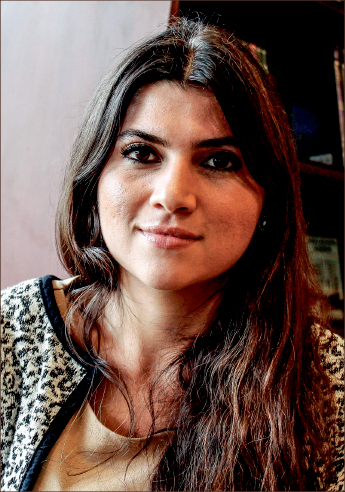 Zibandeh Abedini decides to trust God rather than deny her Christian faith
Zibandeh Abedini understands what Jesus meant when he told his disciples to count the cost in Luke 14:25-34.
Originally from Tehran, Iran, Abedini was not always a disciple. She was a Shiite Muslim for the first 16 years of her life.
"Being a Muslim girl, I never thought I would one day share about my Christian faith," Abedini said.
Her father worked for the government and was tasked with transporting hajjis (Muslim pilgrims) to Mecca in Saudi Arabia for the hajj — the sacred journey to the Kaaba, the holiest mosque in Islam — every year. Her mother was a teacher in a local mosque who volunteered with its widow and orphan ministry.
Abedini was first exposed to Christianity at the age of 6, when her family lived next door to a Christian church. She recalled watching the parishioners stream in and out of the building.
"I loved those people," Abedini said. "I could feel that there was something different in their (lives), but I couldn't recognize (what it was)."
One day, without her parents' knowledge, Abedini entered the church, her eyes immediately drawn to a huge cross hanging on the wall. She remembers seeing hymn books and Bibles, but did not understand their purpose.
The image of the cross, however, stayed in her mind, even after her family moved away.
Three years later, Abedini sat in a classroom in her radical Islamic school, listening to her teacher speak about Jesus, who is revered as a prophet and a miracle
worker in Islam.
Memories of the church where she first gazed upon the cross came flooding back and she told a nearby friend, "I'm
a Christian."
Abedini's teacher overheard the remark and reported the incident to her mother, who expressed surprise and concern at her daughter's shocking statement.
After school, Abedini's parents explained to her that she was a Muslim because God called her to be one. If he had wanted her to be a Christian, she would have
been born one.
Seven years later, at age 16, Abedini returned with her brother, Saeed — who is now a pastor imprisoned in Iran — to the church where she first experienced Christianity, and faced the same cross.
Listening to the sermon, her tears flowed freely, without explanation.
"I could feel something touching my heart, but I didn't know what it was," Abedini said.
Abedini began talking with her brother about Christianity and the Jesus that troubled her.
"It was a huge challenge in my life to make that decision to accept Christ," Abedini said. "… I was in bondage."
Questions about eternity, God's identity and Jesus plagued her, and no one could really answer them.
Six months later, she had a vision.
In the vision, she was in the desert in a glass room. Another man, an Arab, was standing beside her. Outside the glass, another man was walking away from them through the desert.
The Arab man asked her if she knew the other man's identity. He began calling names of Muslim prophets and imams. The man in the desert kept walking. But suddenly, Abedini heard a voice say, "Call him Jesus."
Abedini told the Arab man she knew who the other man was — "Jesus."
The man walking through the desert turned and gazed into her eyes. He was smiling. Abedini knew who Jesus was. And she knew she wanted to follow him.
"I had to make lots of huge decisions in my life daily," Abedini said.
"Everything changed."
Abedini began reading her Bible at school, even during Ramadan, the holiest month in Islam.
Discovered by a teacher, Abedini was reported to the principal, who then asked her in front of all her classmates if she was a Christian.
"Yes," Abedini said. "I am a Christian."
Abedini said that moment began a series of important decisions in her life. It was time to tell her parents about her newfound faith.
"The first decision I had to make was to stand in front of my parents and pronounce my faith to them," Abedini said.
Abedini said her father gave her the silent treatment for six months afterward.
"It (is) so hard to see your relationship with your family broken," Abedini said. "But Jesus said, 'You will lose your family, you will lose your friends, you will lose
your job.'"
Two years later, Abedini and her sister were arrested for sharing the gospel publically. Abedini feared the possibility of prison, where rape and abuse were
not uncommon.
"Sometimes it was hard," Abedini said. "When I look back, I say, 'Wow, it was powerful how God led my way, step by step.'"
At age 24, Abedini left Iran to study at Calvary Chapel Bible College in York, England. The Iranian government learned of her whereabouts and began following her.
"The only choice I had was clinging on to Jesus because I didn't have my family," Abedini said. "I didn't have anything but fears and anxiety. Everywhere was dark."
One night, God shone his light in her darkness.
Abedini was in her room, praying and reading her Bible, when God spoke to her.
"I could hear God talking to me personally," Abedini said. "He said, 'Trust me. I'm your Lord, leading your life by my hands.' All the anxiety was taken away, and he filled me with his peace. I could feel from my head to my toes that he was covering me."
That peace, Abedini said, was lasting. Her confidence was renewed.
"We read in the Bible, 'Trust in the Lord,'" Abedini said. "But when I went through that trial, I didn't have anyone to trust. No one was in my life. The only one was Jesus. It was hard, because I couldn't see anything, but I felt like he was the only one I could trust."
Shortly thereafter, Abedini's lawyer advised her to leave England for safety reasons. She transferred to the Murrieta, California, campus of Calvary Chapel Bible College in January 2013, where she spent two semesters.
Following her time in California, Abedini lived with her brother's family in Boise, Idaho, for several months before transferring to Liberty University.
Now 28, Abedini is studying psychology with a concentration in counseling and human development, in hopes of reaching both Muslims and former
Muslims like herself.
"They're blind. They don't know. They're living in the darkness," Abedini said.
Abedini said Christians must reach out in love to Muslims, something that can only be taught by Christ.
"Loving Muslims comes by sitting at Jesus' feet and receiving from him the instructions on how to reach Muslims, because God has different instructions for each one of us," Abedini said. "Hearing from his heart helps us to minister to Muslims. If we never hear from the Lord, it is hard to reach Muslims."
Now Christians, Abedini's parents are living for Jesus in a culture hostile to him.
Crediting God for her boldness, Abedini is not afraid to share her faith and testimony with anyone who will listen.
"He gave me a story, and he's using that story," Abedini said.
Although walking with Christ under the threat of persecution and death is difficult, it is truly the most rewarding path, according to Abedini.
"I could have chosen to deny my faith several times … and just had a normal life like others," Abedini said. "But I decided to stand for my faith."

GRAF is a feature reporter.