Look Great, Play Great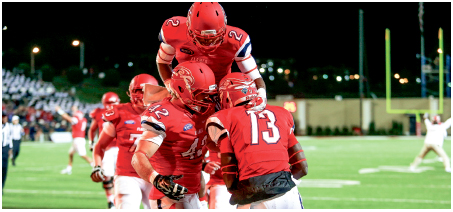 USA Today ranks the Flames homecoming uniforms as No. 6 in the nation
During a Liberty Flames football team meeting Aug. 12, Head Coach Turner Gill announced to the team that it would wear new uniforms this season. Team captains Jacob Hagan, Dominique Davis and Josh Woodrum then entered the room in the new attire, each donning either an all-blue, all-red or all-white uniform. With the new uniforms came 27 potential combinations, one of which landed on USA Today's list of "7 freshest college football uniforms."
Liberty took the field for Homecoming Oct. 4 in all-red uniforms, which were placed at No. 6 on USA Today's list for the week.
When Head Athletics Equipment Manager Chris Dunfee learned about plans to upgrade the uniform, he did not expect them to receive such national notoriety.
"It's obviously a good feeling," Dunfee said. "This is something we did put a lot of work in."
Dunfee said the Flames new attire is a more sleek and tight rendition of prior models. The actual design, however, was constructed by the team captains and other officials involved with the team, according to Dunfee.
"We worked with some of the captains and they helped design it," Dunfee said.
Liberty also sported a new helmet made out of a special material, making the helmets have a smooth finish and feel.
The Flames have used seven uniform combinations thus far — a different combination for each game this season.
"Liberty is tucked away in the little town of Lynchburg, Virginia, and far off the college football map," Foss wrote in his USA Today article. "Maybe that won't be the case for much longer with uniforms like this."
Haywood is the asst.sports editor.