Kelly family inspires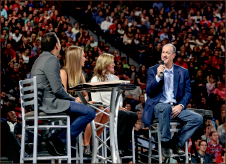 Hall of Famer praises God for life lessons learned
For the first time in the family's history, Jim Kelly, his wife, Jill Kelly, and their daughter, Erin Kelly, took the stage together to speak to students during Convocation Friday, Oct. 25. The three spoke about God's goodness in the midst of trials, marking their first public appearance since Jim Kelly, a Hall of Fame quarterback for the Buffalo Bills, was declared cancer free nearly two months ago.
Before the three spoke, though, Bruce Smith, fellow Hall of Famer, former teammate and friend of Jim Kelly, introduced the man he called "a living testament of what God can do."
"I have such a great deal of respect — a profound respect — for my brother Jim Kelly," Smith said. "… He is an incredible source of strength (and) encouragement. … And even through these trials and tribulations, his faith has not wavered, and that's what's the most impressive thing to me."
Smith and Jim Kelly then autographed four Hall of Fame footballs, and Jim Kelly threw them to members of the crowd, showing off some of the skills that led him to four consecutive Super Bowls.
During the question-and-answer format Convocation, the three spoke about the many trials they have faced as a family, highlighting the eight years spent with their son and brother Hunter Kelly, who was diagnosed with Krabbe Disease at only 4 months old.
"Words can't articlate the emotions you go through as a parent when they say your child is not going to live to see his second birthday," Jill Kelly said. "… (In that moment), all that I know is the worldly foundation that I've stood on my entire life, and that comes crumbling down in an instant."
Though Hunter Kelly's disease was incurable, Jill Kelly acknowledged that the diagnosis pushed her to rely fully on God.
"(I)f there was a worldly answer or a cure or a treatment or something like that in that moment, that's what I would've continued to put my hope in," she said. "… It took the suffering of our one and only son to bring us to the only suffering that matters, and that's the suffering of God's one and only son."
According to Jim Kelly, his wife, whom he described as a "strong woman of faith" and praised for her strength in the midst of all the family's hardships, helped him to find Christ following her own life-changing decision.
Now, Jim Kelly said his faith is what has given him strength to beat the cancer that once lived in his upper jaw.
"Even though I've been stricken with cancer and I'm still in the fight of my life, I know God has plans for me, and I believe that," Jim Kelly said.
According to Erin Kelly, a junior at Liberty who is in the process of writing a book about her family's experiences, she began to understand the importance of her father's faith when she heard him tell NBC reporters he was not afraid to die as he was undergoing treatments. Erin Kelly explained that in the midst of all his pain, her dad showed what it truly means to be "Kelly tough."
"I've never seen him be so weak, but I've never seen him be so strong, because he has depended fully and completely on the strength of Christ," Erin Kelly said. "… That's where 'Kelly tough' came from — our strength that we find in Christ."
Erin Kelly explained that the struggles her father has endured and the sacrifices her family has made have not discouraged them, but rather have given them an opportunity to rejoice in God's goodness.
"(My dad's battle with cancer) allowed (our family) to look to God's strength and say, 'Lord, you are good even in the midst of this. You are good, and you are taking care of every detail, and we have nothing to fear because we know that in death, we have life. We have life abundantly.'"
Jim Kelly also explained that, in addition to all he and his family have learned over the last months, he is grateful for the opportunity to make an impact on others' lives.
"If I can make a difference for kids out there, if I can make a difference for adults out there by what I am going through, thank the good Lord," Jim Kelly said. "… For all those people out there … that are having a tough time, … don't stop, just fight. Fight until the end. … I live every day like it's my last, but I enjoy every day. So enjoy every day that you can, and be blessed with
what you have."
Brown is the editor-in-chief.