National attention hits Flames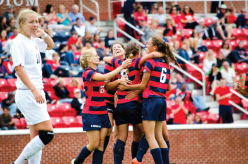 The recent growth and success of athletics warrants big time media attention
USA Today reporter Dan Wolken wrote an article Aug. 19 headlined "At Liberty, FBS dreams and a high-resource reality." Within the article, Wolken explained the overall state of Liberty athletics. He wrote about Liberty's financial preparedness, state-of-the-art facilities and ultimate support from the president. He also wrote about Liberty's desire and struggle to make a jump to the Football Bowl Subdivision (FBS).
Major news outlets, prior to this article, have covered Liberty's athletic department. But it has been quite some time since such a prominent news production covered the Flames. According to usatoday.com, the website has had roughly 23 million readers since 2011. Chances are, not all 23 million read Wolken's article. However, one could argue that there was a time when such a major news publication would not have written an article about Liberty athletics, let alone about its progression.
"I thought (the article) was very fair and very accurate," Athletic Director Jeff Barber said. "… It was an accurate portrayal of what we are trying to do."
Barber also stated that out of those 23 million potential readers, some of them were athletic directors from other schools who also gave praise for the article.
This is not the only time the Flames have been in the national sports spotlight recently. The baseball team is coming off a season where they played in the NCAA Baseball Tournament. The softball team is months away from opening what the USA National Softball team described as "the best softball stadium in the nation." The football team began the season against the University of North Carolina at Chapel Hill, the No. 23 team in the nation, which was also the first nationally ranked FBS opponent for the Flames.
Also adding to their national attention, Barber and President Jerry Falwell made their pitch to multiple schools throughout the summer, intending to show that Liberty has the talent and resources to join and thrive in an FBS conference. Despite the pitch, the Sun Belt, Liberty's desired conference, ultimately chose not to add any teams until at least next season.
In Wolken's article, an anonymous source, which Wolken claims has direct knowledge of the Sun Belt's expansion plans, said Liberty would not add anything to the conference's profile.
"I don't think that's accurate," Barber said. "I think we do bring a lot. … It's not true that we don't bring something to the table. We bring a very competitive
athletics program."
Barber also referenced the Sagarin rankings, USA Today's advanced rankings system of athletic teams and how they fair among other teams. According to Barber, they indicated that if Liberty played in the Sun Belt last season, football, women's basketball and baseball would have been the fifth, first and second best teams respectively.
Despite not making the jump this season, Barber and Liberty Athletics plan on continuing to improve the program until they reach their goal of joining FBS.
"I think the only thing we can do is keep doing what we're doing … trying to get better everyday," Barber said.
Making a jump to FBS would mean more revenue, more scholarships and more national exposure. It would also put Liberty athletics in an even better position to promote Liberty University and its mission as an institution.
"We want athletics to be successful and to bring honor to God," Barber said. "But at the same time, we want to help promote this university. Moving to FBS would put us on a much bigger platform. A lot more people will know about Liberty and follow it."
Leaving the Football Championship Subdivision conference would also mean potential expansion at Williams Stadium. Wolken reported that Liberty is ready to add 6,000 seats to the already 19,200-seated stadium and with time, ultimately double the amount of seats.
According to Barber, as an FCS school, Liberty cannot host an FBS team. However, if Liberty was promoted to the FBS, it could and likely would host larger FBS football programs.
"We've had some people do some drawings for us that would expand the stadium," Barber said. "When we go FBS, Virginia Tech can come here and play. Virginia can come here and play. Old Dominion, Maryland can come here and play. There are a lot of big programs, and if Virginia Tech came to play, we would need a lot more than 19,200 seats."
With a possible football stadium expansion and a new multi-million-dollar softball stadium nearly complete, Barber still has plans for additions to the athletic department's facilities, all of which are being done within a program that has not even existed for 50 years.
The progression of this department, including moments such as the baseball team being shown on ESPN, celebrating after being selected to play in the national tournament, do wonders for the program and have brought Liberty athletics much publicity. And many, including Wolken, are definitely starting to notice.