Dresses put on display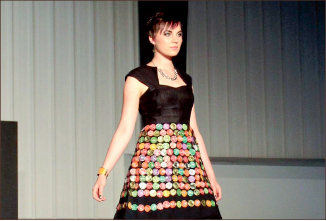 Fashion show recognizes designs from FACS department
Four designs from April's "Go Green, Go Glam!" fashion show hosted by the Department of Family and Consumer Sciences (FACS) will be featured this November in Charlotte, North Carolina, at the International Textile & Apparel Association's (ITAA) 2014 annual conference.
The designs of students Melissa Breaux, Brianne Crist, Amy Yoon and Tenzi Chacha will be four of the 29 designs shown at the conference. The 29 designs were chosen out of 313 design submissions. Other schools that will have their designs shown include Virginia Commonwealth University, Kent State and Cornell.
"To see that our students, four of them, are going to be shown right along with those others, it's just fantastic," Matalie Howard, a FACS assistant professor, said. "We're so excited for the students. So this is a big deal for them because now designers are going to be at this international meeting. Graduate schools in fashion will be there. Other professionals will be there."
Howard, an active member of ITAA, is the one who decided to send in the designs. She and other faculty members chose the work of six students to send
to ITAA.
Melissa Breaux, one of the four selected designers, used soda can tabs and garbage bags to create her design. This went along with the theme of April's fashion show in which students used recycled materials to create their garments. Other designers used materials such as duct tape, bottle caps and puzzle pieces.
"I actually was inspired by mission trips to Nicaragua because they used garbage bags to patch their houses and sometimes make their houses," Breaux said of the design. "I decided to use garbage bags and to go with a 'redeemed' theme, because God redeems us, and a lot of people look at those people in the dump as unredeemed, but God loves them."
Breaux said fashion was a childhood dream of hers that was put on hold so that she could raise her family. Now a senior in the FACS program, she said it is never too late to follow your dreams.
"My hopes and goals and dreams are to do work with designing for the pre-teen age group and to help get clothes to missionaries for the kids in the mission field that don't have access to clothes," Breaux said.
Howard said the ITAA conference would be a good experience for the four designers. While there, they will attend workshops on different aspects of design and will also have opportunities to network.
"Networking is a huge part of this, and that's why I'm so glad they get to go, because they're going to meet professors from other universities, they're going to meet students from other universities," Howard said. "Face-to-face is so vital in the fashion industry."
Howard encouraged anyone interested in fashion, food or family and to talk to someone in the FACS department or visit liberty.edu/academics/arts-sciences/facs.
HUDSON is a news reporter