Changing the game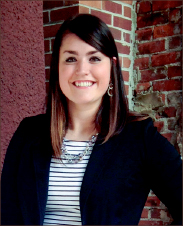 Forbes honors Liberty graduate as one in a thousand
Forbes will honor Liberty University graduate student and alumna Tori Utley as one of its 1,000 rising "game changers" at its Under 30 Summit in Philadelphia
Oct. 19-22.
According to the Forbes website, this first Under 30 Summit is estimated to bring 1,000 brilliant young magnates and the finest entrepreneurs from across the United States. The intent is to share ideas, collaborate on business plans that will advance their companies, form partnerships and help them grow as individuals.
"I feel so incredibly blessed to have been chosen to attend the Forbes Under 30 Summit," Utley said. "I look forward to meeting incredible people with engaging stories and hope to learn from everyone I meet and hopefully gain connections and partnerships that will impact my career and the world for a lifetime."
Utley, who received her bachelor's degree in psychology at Liberty and is currently working to earn her MBA, has worked with Mission21, MLT Group, a Minnesota marketing firm, and currently works at the Mayo Clinic. Utley credits her success to Christ and her higher education experiences.
"My entire career at Liberty University helped prepare me for this opportunity," Utley said. "I have been a part of a great university with incredible community, even online. My professors have been compassionate, godly and academically challenging. They have had high expectations of students … and have taught me to aim for higher things, because they are possible with Christ. I am so thankful for the preparation I have been given through my studies at Liberty."