Nasser named Senior VP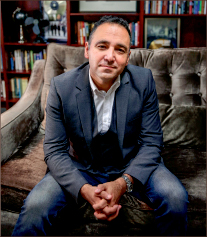 Renowned pastor accepts executive post to guide Liberty students
Liberty University recently announced that David Nasser has become the new senior vice president for spiritual development and that he would be filling several roles including some of the duties previously assigned to Johnnie Moore.
This change arose when Moore left the university to become chief of staff for television producer Mark Burnett. According to President Jerry Falwell, he felt it was important to fill the Campus Pastor position right away rather than waiting. Falwell also said that certain Liberty board members had already come to the same conclusion as him about hiring Nasser.
"When David and I talked, it seemed like he already knew all about Liberty," Falwell said. "It seemed like he had the right focus and the right goals for Liberty's spiritual future, and I think he just appeals to college-age kids in ways that a lot of people can't."
At the time Nasser was contacted by Falwell, he was the pastor of Christ City Church in Birmingham, Alabama. He speaks to 500,000-700,000 young people a year and founded the David Nasser Outreach program. According to Nasser, he was not looking to move to Liberty but felt a change of heart once he spoke to Falwell.
"After a few initial conversations with President Falwell, my family and I flew out to Lynchburg and spent time just talking to the leadership and hearing about the vision of the school," Nasser said. "The more I heard it the more I thought, 'I share the same vision.'"
What he wants to see happen in the life of a college student, I want to see happen in the life of a college student. After a lot of prayer and affirmations, we felt like God was asking us to be a part of it."
According to Nasser, his relationship with Liberty began many years ago as Moore had invited him to speak at Liberty numerous times before. Nasser is friends with Moore, who will remain a consultant to Liberty through the transition.
"I think it is important to note that I feel just as called to Lynchburg as I do to Liberty," Nasser said. "And so Liberty might be the very thing that God has used to call my family to Lynchburg."
According to Falwell, Nasser will be heavily involved with CSER, Convocation, the Center for Global Engagement and Campus Church.
"He's got ideas for speakers and for Convo that are really innovative and different," Falwell said. "He's out rubbing shoulders with the type of speakers that we are trying to bring into Convo. I just think he brings a wealth of experience and maturity to that position that will benefit our students spiritually."
One of Nasser's primary goals is to expand the global mission trips of the school. He also wishes to get students more involved in local churches.
"There is nothing broke here; we just want to do it at a higher level," Nasser said. "Our Convocation is the single largest weekly gathering of college students in the world, and there is a good reason that it is that way. They come with great expectation not to necessarily hear the biggest names, but to hear some of the most God-centered people."
According to Nasser, one of the most significant changes from Moore's leadership is the reduction of guest preachers for Campus Church, as Nasser will take on the role of the primary speaker for Wednesday nights. He also would like to place more focus on studying various books of the Bible instead of basing his sermons around a particular topic.
"Johnnie was not necessarily the guy who preached a lot," Nasser said. "He is the guy who brought a lot of people in who would do that and he would do that on occasion. Where the flip will be is that I will probably do a lot more speaking on campus church than Johnnie did. Outside of that, at the end of the day, Johnnie had a real shepherd's heart, and we shared a lot in common."
Although Moore was an iconic figure of the Liberty University staff, Nasser is not worried about trying to fill his shoes.
"I think I would do a horrible job of trying to be Johnnie Moore," Nasser said. "Nor does our school want a carbon copy of him. I think a great way to honor him is to say, 'I think there are things that he did that David Nasser could never do but there are things that David Nasser's hard-wired by God to do that no one else can do.'"