Mind games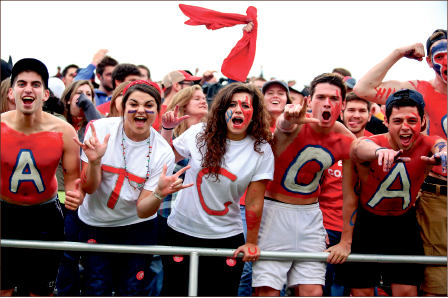 Flames are in full preparation mode for No. 23 Heels
By the time the Liberty Flames kick off against the University of North Carolina-Chapel Hill on Aug. 30, they will know the Tar Heels fight song, word for word.
The reason? Flames head coach Turner Gill has been playing it throughout practice as part of last week's switch to "full preparation" for the big game. Strains of "I'm a Tar Heel Born" as well as simulated crowd noise could be heard blasting from Williams Stadium any given August evening.
It might seem excessive, but the Flames are determined to wholly prepare for their year. After a 2013 season that started slow, included four close losses and ended agonizingly short of a postseason, the Flames are eager to bridge the gap that has taunted them for half a decade now.
How will they do it? Physical and strategic improvements come into play, but the Flames' recurring theme headed into the 2014 season is the mental aspect of the game.
"It honestly comes down to mental toughness and competition," senior safety Jacob Hagen said. "This summer, we've competed in everything we've done, and competing brings about a mental toughness, a certain attitude with our guys."
The Flames challenge one another in the weight room, race teammates through drills and perform at game level during seven-on-sevens. From third-year starting quarterback Josh Woodrum to the newest walk-on, the team is clearly set on cultivating a winning mindset.
"The mentality's been outstanding," Gill said. "I think it is something we've improved … where guys understand the expectations, the mental toughness we have to have. I think that's been a good thing for our whole football program."
Woodrum echoed his coach's sentiment, expressing his support of the team-wide dissatisfaction with losing.
"I don't think anyone has that (losing) sort of mindset this year on the team," Woodrum said. "I think that's the exact mindset you need to have. Obviously there's going to be pressure, but you shouldn't crack under it. You should thrive in it, and I think that's the way most people on this
team are."
It is an edge they will need in Chapel Hill and beyond, with challenging nonconference matchups against Norfolk State, Brevard, Bryant, Indiana State and volatile homecoming games at home against Richmond and on the road at Appalachian State. The games precede a must-win Big South tour standing between them and playoffs.
"We've just got to execute," Woodrum said. "We wore down at the end of those (losing) games, and I don't think we were really mentally sharp. We've got to come out and be smart, make sure we don't make any dumb mistakes in crucial situations."
Ears still ringing from the roar of his opponents' fight song, Hagan gestured to his teammates, putting in extra reps after the final whistle.
"We know (what) we're out here practicing for," Hagen said. "We know it's coming. And when we're out here, we just want to simulate it as best we can."
For that reason, when the Flames take the field for the first time this season, they will be ready in more ways than one.
Blood, sweat and tears have gone into their offseason, but in this case, it really may be the thought
that counts.