Paintball wins first regular-season title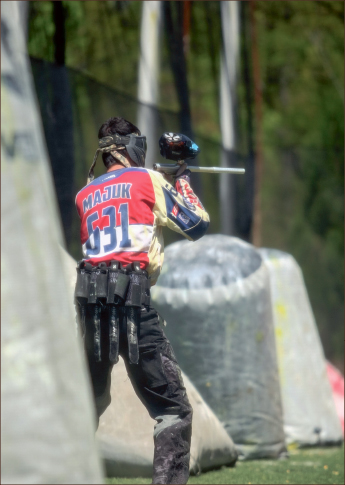 Class AA paintball team ends season by shooting its way into participating in NCPA championship tourney
Twenty-four Liberty students traveled to Lakeland, Fla., for the National Collegiate Paintball Association (NCPA) Championships April 10-14, according to Liberty Head Coach Todd Hoglund.
"Last year we had 16 or 17 players go to nationals, so it was huge to have 24 players go down this year without any hiccups," Hoglund said. "Overall the trip was successful and the team did well despite not winning nationals, which of course was the goal."
According to Hoglund, Liberty's paintball team consists of five lines of two Class A lines and three Class AA lines. The blue line of the Class AA ranked 6th out of 50 at nationals, securing enough points to earn the team the title of season champions for Class AA.
"Class AA met my expectations for nationals with some ranking highly and others earning a couple of points," Hoglund said. "It was great to see Class AA become season champions, which is the first time in Liberty history."
According to the NCPA website, Liberty's Class A teams have ranked in the top four of the Southeastern Conference for the past five years.
"I really thought our Class A was a topfour team, but I still think they did really well this season," Hoglund said.
According to Jaclyn Bixby, Liberty junior and player on the white line of Class AA, said her line ran into some hardships during nationals.
"One of our line's players could not come to nationals and another was injured early on in the weekend," Bixby said. "It was a difficult time for the white line, but it was a great opportunity to learn a lot."
Bixby, who is a new player and the only female on the team, said she had never played paintball before this year and was excited to jump right into the new atmosphere of competitive paintball.
"I love taking a player like Jaclyn who has never picked up a paintball gun and seeing her grow in the sport," Hoglund said. "We have been able to take players from nothing and get them to a competitive level. It is really hard to do but having fields on campus and top players who are willing to help the new players makes it easier."
According to Bixby, the Class A players are the paintball team's best, but they make sure to take time out of their practices to help and encourage the new players who may step up into their shoes.
"We are losing three Class A starters, which is a shame, but is also really cool because they came from nowhere," Hoglund said.
Hoglund said he looks forward to next year's season and although the team will look different, his goal every year is to win the national title.
"We have the team we have who represents what we represent because of the support of Liberty," Hoglund said. "Liberty has been hugely supportive of the team. From club sports to the Chancellor; they are all big fans of the paintball team."
According to Bixby, Liberty's team stood out at nationals because of their Christian foundation.
"Our lives as Christians looked a lot different in the midst of things like drinking and cursing that happened during nationals," Bixby said. "I think we carried ourselves well by our lifestyles and how we encouraged and supported each other. It's important to us because we play for more than just ourselves. We do this to glorify God."