Once a Cardinal, now a Flame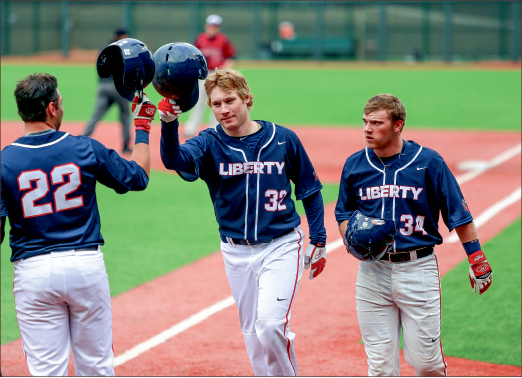 Flames second baseman Ryan Seiz has experienced an unlikely journey from the University of Louisville to Liberty
With the 2013 conference championship on the line, there was no place Flames second baseman Ryan Seiz would rather have been at the plate with a bat in hand. But as the underdog and fifth-seeded Liberty baseball team found itself in a tied game with the No.1 Campbell Camels in the bottom of the eighth inning, he could only watch.
NCAA rules prevented him from playing for a year after he transferred from the University of Louisville. For a year, Seiz stood just off the field, confined to the dugout or the bullpen as he played the role of bullpen catcher.
During his freshman season with the Cardinals, Seiz had a major offensive slump at the end of the year, which resulted in his coaches telling him to bat only right-handed rather than switch hitting as he had been. But instead of improving his hitting, the change had the opposite effect, according to Seiz. He only hit .125 his sophomore year.
"It was actually pretty much a nightmare, because I couldn't identify pitches the same way that I did before," Seiz said. "I almost felt like a piece of my identity was taken away from me, because I had been switch hitting my whole life."
After a sophomore campaign that only included 30 appearances in the Cardinals' 61 games, Seiz decided it was time for a change of scenery.
"Stuff was just not going well, and I needed to get out of that situation," he said.
According to Seiz, he considered a couple of schools before his younger sister convinced him to follow her to Liberty, a team that heavily recruited him out of high school.
According to Flames Head Coach Jim Toman, Seiz's father paid a visit to Toman during his daughter's college visit to talk about the possibility of Seiz transferring to play baseball at a different school.
"(Ryan and his dad) stopped by when he got his release from Louisville," Toman said. "… He just showed up in the office one day and I said, 'Heck, I remember you in camp.' … A couple days later, he called and said, 'I'm coming.'"
According to Seiz, all he needed was a shot from Toman.
"That's all we really asked for, and it seems to be paying off," Seiz said.
However, for all the confidence Toman showed in his new athlete, Seiz said he was extremely hesitant to make the change from a secular school to a Christian one, as he had just "found God" the summer before transferring.
"Coming here was a huge leap of faith for me," he said. "All the partying and things that I did at Louisville, I was so used to that, and this was out of my comfort zone."
Despite his hesitancy, though, Seiz said he settled right in at Liberty even though he was unable to play for a year.
"(My teammates) were just so supportive of me and really building me up," he said. "… They knew how hard it was for me not to be out on the field, and they just supported me a lot."
As a player, though, all the encouragement from his teammates did nothing to allay his desire to get on the field, he said.
"It was just torture having to watch them go out and play," Seiz said.
Although he wanted nothing more than to step up to the plate for the Flames, Seiz explained that the year off was a good experience.
"I was such a selfish person before I came here, and I wasn't good with the Lord," he said. "… That year just really humbled me and made me focus on the team instead of myself."
Despite the challenges the 2013 season brought, Seiz said the year was necessary and beneficial.
"(S)itting out, I think, was good, even though I hated every moment of it," he said. "… As much as I wanted to play last year, I don't think I was ready to play yet. I was so frustrated with what happened at Louisville. … I really needed to grow spiritually, I felt like, and God has really just calmed my heart. I've been able to go out there (now) and relax and play."
In his first season on the field with the Flames, that relaxation has translated into offense for Seiz. The junior switch hitter currently leads the Big South with 11 home runs. He is also hitting .392 and has 47 runs and 38 RBIs on 69 hits. In conference play, he leads the league with a .438 average, along with sitting atop the Big South in hits, home runs, runs, doubles, total bases, on-base percentage and slugging percentage.
Although the numbers are impressive, Seiz is only concerned about performing consistently for the Flames.
"I'm just trying to help out our team in any way I can," he said. "… I just wanna make sure I'm hitting the ball constantly (and) hard. That's pretty much the one thing I'm trying to do. … All I'm really trying to do is trying to get wins for our ball club. … As long as we win, we're happy."
Now, nearly a year after the Flames beat the Campbell Camels with a go-ahead, RBI single in the bottom of the eighth for the 2013 Big South Conference Championship, Seiz hopes to contribute for a second straight title, and he believes his team has a pretty good chance at the repeat.
"All of us feel like this is a special team, just because of the chemistry and how well we've been playing together and how many great ball players we have on the team," Seiz said. "When you combine our pitching and hitting, when both are on, we just feel like we can't be beaten at times."
But this time, instead of hoping from the dugout that his team's chemistry and talent produces a conference championship, he will be on the field trying to help make it happen.