Offense triumphs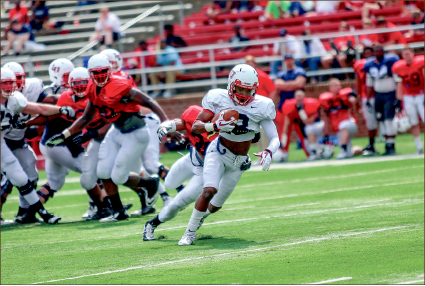 Defense falls short in football's annual red vs. white spring game
Fans took in their first glimpse of 2014 Liberty football at the annual spring game Saturday, April 12, in which the white team prevailed over the red squad 70-52.
Yes, 70-52.
The final score was a result of an unorthodox scoring system rather than a Vesuvius-like offensive eruption. Points were awarded for various tasks on both sides of the ball. For example, five completed passes in a row gave five points to the offense. There were 34 different ways to earn points for the offense and the defense in addition to the standard ways of scoring.
Teams were divided very simply — white was offense and red was defense. The defense was given a few more ways to score under the system to make up for not being able to score touchdowns or field goals. The game was also split into two halves instead of four quarters, with a 25-play limit per half.
There was also another wrinkle the coaching staff threw into the game — no tackling allowed. Offensive players were ruled down immediately after getting touched. Head Coach Turner Gill said preventing injuries was the biggest reason for the rule change.
"(Playing one-hand touch) was different," wide receiver Darrin Peterson said. "I didn't like it at all, but you don't want to get people hurt right now. For me, it was frustrating, because when you got touched, they said you were down. But a touch doesn't mean you're down in football."
Running the ball was made nearly impossible with the tackling rules, so the passing game was on display for most of the afternoon. The offense got off to a sluggish start, missing both deep throws and routine check-downs early in the game. It was not until the first drive of the second half that the white team found the end zone, with quarterback Josh Woodrum hitting Peterson in stride for a 65-yard bomb.
"Coming out, we kind of knew it was going to be an uphill battle," Woodrum said. "Since we were playing touch, we knew we weren't going to be able to run the ball like at all. We were going to come out and throw the ball a little bit, and we just took advantage of what they were giving us on (Peterson's touchdown)."
Incumbent two-year starter Woodrum finished his day 4-8 passing with 88 yards and a touchdown to lead all passers in yards, but all four quarterbacks on the roster saw action on the day. Javan Shashaty completed 70 percent of his passes and threw the touchdown pass to running back Todd Macon that clinched the game for the white team. Redshirtfreshman Stephon Masha showed positive glimpses as well, using his legs to get outside of the pocket and make some strong-armed throws. Bo Swanson saw the least amount of time, only launching three
passes.
Former defensive lineman Cory Freeman was awarded the Luke 2:52 Award at halftime, which is presented to the graduating senior with outstanding whole-person development. In other spring award news, a pair of youngsters won the Samkon Gado Award for most improved player over the course of spring practice — redshirt freshman wide receiver Justin Fritts on offense and sophomore cornerback Ray Ferguson on defense.
"I think (Fritts) can make an impact," Gill said. "He has good athletic ability. He has really good hands. Probably his best asset is his ability to catch the deep ball. (Ferguson) has made plays. He's made some interceptions in practice. He's now a guy we feel we can put on the field."
Fritts finished with two catches for 11 yards, while Ferguson was credited with one tackle and one pass breakup, swatting away a deep ball from Woodrum to Gabe Henderson in the first half. A walk-on, Ferguson has worked his way towards competing for a starting role in the secondary in just his second year with the team.
"I've put in a lot of hard work on and off the field and it's paid off for me," Ferguson said. "I'm excited about where I'm at on the depth chart. Today was kind of a stepping stone for what the summer will bring."