Cruz crusades for freedom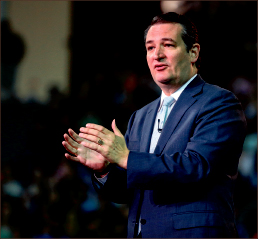 Texas U.S. senator encourages students to take a stand for their religious rights
Sen. Ted Cruz, R-Texas, expressed concern for attacks on American religious liberty and encouraged students to take a stand for their freedom in his Convocation address April 2.
"We are here today to talk about something a lot more important than politics," Cruz said. "I'm here today to encourage you — to encourage you in your faith, to encourage you in freedom, to encourage you in standing up for the principles that define you."
The senator and Republican presidential primary candidate, who once filibustered the senate floor for more than 21 hours in protest of the Affordable Care Act, noted threats to religious liberty resulting from the ObamaCare plan.
Cruz specifically discussed the Supreme Court case involving Hobby Lobby's suit regarding the Affordable Care Act's requirement for employers to provide contraceptives when the action violates their religious beliefs.
"For a nation that was founded by pilgrims fleeing religious oppression, how (far have) we gone that the federal government is now litigating against our citizens, trying to force us to violate our faith?" Cruz said. "Religious liberty has never been more under assault."
Along with the Hobby Lobby case, Cruz said he opposed the Obama Administration's attempt to collect millions of dollars in fines from the Little Sisters of the Poor, a group of nuns committed to reaching the poor, for neglecting to provide contraceptives.
While Cruz mentioned a number of attacks on religious freedom, he encouraged students to respond by taking action to protect their freedom.
"If you believe in religious liberty, if you believe in standing for your faith, if you believe in the liberties that are protected in our Constitution, then I would encourage and call you to act," Cruz said.
Cruz mentioned the sacrifice of Saeed Abedini, an American pastor who has led approximately 30 prisoners and guards to Christ after being arrested for sharing his Christian beliefs in Iran, and encouraged students to be willing to make sacrifices in the battle for religious liberty.
"As believers, we are called to actions, not to sitting quietly and hiding our faith under a bushel, but to stand and speak no matter what the consequence," Cruz said.
According to Cruz, students can take action by protesting attacks on religious freedom through both social media and word of mouth.
"You can speak out, and every one of you has the ability to connect with your family, with your friends, with your neighbors in a way that resonates a thousand times more than some politician from Washington ever can," Cruz said.
Senior Caleb Bliesner said Cruz's speech inspired him to speak out in defense of his liberty.
"I am more motivated than ever to be active in my defense of my religious freedom," Bliesner said. "I will not tolerate any tyranny aimed at religious freedoms, and I will also encourage fellow Americans around me to do the same."
Cruz expressed hope for the future of America and said he was inspired by the number of young people willing to take a stand for religious freedom.
"The 10,000 people gathered here today and the thousands more that are online watching, you have the ability to change the state of Virginia," Cruz said. "You have the ability to change the United States of America. The 10,000 people here, you have the ability to change the world."