Students travel to Jamaica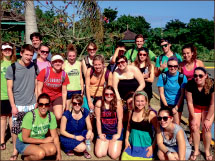 Training educators teach classes in Caribbean, earn practicum credit
For six days during Christmas break, education students were given the opportunity to fulfill some of their practicum requirements by traveling to May Pen, Jamaica to teach the students of Hazard Primary School.
The education students taught nine-hour shifts during the day and spent the remaining time preparing lessons that they would present and teach in various classes, according to Jacquelyn Waltmire, a junior in the education program.
"Teaching nine-hour days at a shift school may have been draining at times, but the opportunity was more than rewarding and eye opening for our team," Waltmire said.
According to Waltmire, the classes at the shift school ranged from first grade through upper elementary levels. Students had the opportunity to teach to any one of these grade levels, including the special education unit.
Assistant professor and Director of Educational Technology Randall Dunn said he accompanied the students on the trip to help set up a computer lab with 20 computers and an Internet connection to be used by the teachers and students with open-source productivity software.
The lab was donated by Liberty, and the plan is to bring another 10 computers sometime in the future, according to Dunn.
He was also involved in planning future trips for students studying special education to travel to Jamaica January 2015 for practicum credit.
"The exciting part, though, is that we might start the process for developing a (Liberty University) sponsored and directed assessment center based in Jamaica," Dunn said.
According to Dunn, this program would provide a place for families with special needs children to go through a diagnostic process as well as identify appropriate interventions and teaching and learning strategies based on the diagnostic results.
"Frankly, this is a very exciting and unique opportunity for (Liberty's) School of Education. There is no service like this in May Pen, Jamaica," Dunn said.
According to Waltmire, every evening, the students heard from various guest speakers, including the principal of Hazard Primary, a government official and a hospital director.
When the students were not teaching at Hazard Primary School, they would go to local hospitals and orphanages to play with the children, Waltmire said.
"We got really close with our professors, which was a really neat experience," Waltmire said. "Our professors gave us advice and encouragement during the whole trip."
Liberty intends to continue the practicum experience, which is in its second year, not only at Hazard Primary but at other educational institutions as well, Dunn said.
Other trip opportunities for education students include the Dominican Republic and Greece, according to Waltmire.