New league, same results for lacrosse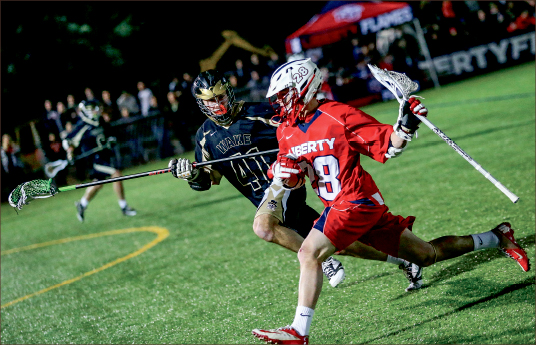 Flames torch Wake Forest and New Hampshire by a combined score of 33-7 in their first two games of the year
The Liberty Flames men's lacrosse team (2-0) defeated the Wake Forest Demon Deacons Friday, Feb. 21 (0-5, 0-1 SouthEastern Lacrosse Conference) and the New Hampshire Wildcats Sunday, Feb. 23 (1-1) in its first games in Division I
(D1) play.
LU 21, Wake Forest 1
In their lacrosse DI debut, the Flames displayed an offensive supremacy, defeating SouthEastern Lacrosse Conference (SELC) foe Wake Forest 21-1 in front of a record-setting crowd Friday night.
"It's a good way to start the season," Head Coach Kyle McQuillan said. "Obviously we want to continue to grow and build off of this. … We are hoping for good things."
Senior midfielder Derek Haywood set the tone early in the game, laying out Wake Forest players with clean hits. Smooth ball movement also helped the Flames get easy, open looks at the Demon Deacons goal.
"We have some new additions (to the offense) with Chad (Moore) and Brett (Bernardo)," sophomore attacker Ryan Miller said. "It's good to see our offense had some chemistry. We are getting some good looks. We have guys that can dodge and also shoot from the outside, so that really opens our offense up."
Four minutes into the game, sophomore midfielder Bernardo put the Flames on the board with their first goal of the season. Later on in the quarter, senior attacker Kurt Tobias scored, taking advantage of an empty net left by Demon Deacons freshman goalie Jim Walters, who lost the ball after pressure from Miller.
By the end of the quarter, Liberty had a 6-0 lead and tacked on more in the second. The Flames continued to overwhelm Wake Forest, outshooting the Deamon Deacons 16-2 in the quarter.
"It comes down to the amount of work we put into the offseason," McQuillan said. "… These guys have been building relationships with each other, and I continue to see them get better as the season goes along."
Liberty added five more goals and went into halftime with an 11-0 lead.
The second half mirrored the first, with Liberty staying aggressive on both ends. Goalie Ethan Kamholtz was poised to pitch a shutout. However, he gave up his only goal to Wake Forest junior attacker Sam Cramer off a two-on-one break.
With a 15-1 lead, Liberty chipped in six more goals in the fourth quarter to close out the pounding.
"It's good to shake off the rust," Tobias said. "This game gave us motivation to begin the season."
Miller and Tobias had a combined 10 goals and three assists.
After earning their first victory as a DI team, the Flames focused on their second home matchup against New Hampshire.
"We haven't seen a lot of New Hampshire, but we know that they are a pretty solid team," Miller said. "We are going to try to build off this game and try to keep the offensive chemistry going."
LU 12 NH 6
After an offensive assault against the Demon Deacons, the Flames captured their second victory of the season, defeating the New Hampshire Wildcats 12-6 Sunday.
New Hampshire attempted to come back from an 8-3 lead, but strong fourth-quarter play, led by junior attacker Chris Armstrong, helped solidify the victory.
Although the Flames jumped out to a 2-0 lead, the first half was a defensive struggle. By halftime, Liberty clung to a 3-2 margin.
But, the Flames took advantage of New Hampshire penalties, scoring three unanswered goals in the third quarter.
Tobias and sophomore midfielder Bryce Mrakovich sparked the second-half run, pushing the Flames lead to five. Tobias earned his second hat trick of the season, scoring all three of his goals in the third quarter.
Liberty will play its first SELC division game when they travel to face the Kentucky Wildcats Saturday, March 1 at 1 p.m.