Football reloads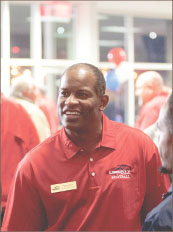 Head Coach Turner Gill signed 13 recruits
The defending co-Big South champion Flames football team looks to build on its 2013 success with the help of 13 new players as it gears up for the new season.
Last year, the Flames tied for first place in the Big South Conference last season. However, they lost vital components of their team, including senior cornerbacks Walt Aikens and Kevin Fogg, who helped Liberty lead the Big South in interceptions. Additionally, 10 of the 21 players who graduated were defensive players, and the losses will play a factor in the upcoming season.
Head Coach Turner Gill and his coaching staff will use their 2014 recruiting class to fill gaps left by key players who graduated and to help Liberty defend its title. The Flames signed 12 freshmen and a transfer student from the University of West Virginia. Of the 13, six are offensive players, and the other seven play defense.
"(It was) a great (signing) day, really, for Liberty" Gill said. "It's a great day for a lot of young men. A lot of great things for our fans, for this team. I really feel great about this class."
Liberty's coaching staff signed four defensive backs, including South Carolina standout cornerback Chis Turner, to add more depth to the secondary.
During Turner's junior year of high school, he had ten interceptions and returned seven for touchdowns. Unfortunately, two games into his senior year, he suffered a season-ending shoulder injury. Liberty Assistant Coach Josh Bookbinder described Turner as a "phenomenal athlete."
Also added to this class was cornerback Corbin Jackson from North Carolina, an under-the-radar player who Bookbinder said can "do it all." Jackson played both wide receiver and cornerback during his two years of high school football.
In those two years, he had more than 50 tackles and 13 interceptions.
Liberty brought in two safeties to complete the secondary — Avery "AJ" James from South Carolina and Cameron Jackson from Texas.
"AJ is very talented, long, tall and physical." Recruiting Coordinator Marshall Roberts said. "He's very mature, and he goes about his business systematically, every day."
During James' senior year, he notched 91 tackles, 12 pass breakups and four forced turnovers.
Jackson was also a coveted pick, according to Co-defensive Coordinator Vantz Singletary.
"This one here, I tell you, man, he's really special," Singletary said. "Talk about character, talk about leadership, an athlete, a guy who is passionate for Christ. I mean he's just got so many intangibles. How could you go wrong with somebody like that? … He's just an unbelievable steal."
Linebacker Lucas Irons, a Florida native, was called "explosive" by Defensive Coordinator Robert Wimberly. Irons also had an impressive senior season with 77 tackles, six sacks and three interceptions.
"He can run," Wimberly said. "He's aggressive. He has great instincts. He makes plays on the football, and so we're really excited to have him."
Incoming defensive linemen Javon Majors and Tolen Avery were key targets for the Flames recruiting staff. Passing Game Coordinator Joe Dailey said Majors could "make our defense instantly better with his arrival."
Gill also gave the offense plenty to work with as well. Quarterback Josh Woodrum and running back Desmond Rice will have two new offensive linemen and a new fullback protecting them.
Daquin Edwards is a fullback that knows how to block, catch and run. The Floridian ran for more than 1,600 yards in his last two seasons and scored 12 touchdowns. Wimberly said he is a mobile athlete with great hands and a physical blocker.
Offensive linemen James Passmore and Greg Storey were big pickups for the Flames. Assistant Coach Dennis Wagner said he was pleased to have both.
"Greg's a big young man, very athletic," Wagner said. "… We want our guys to be athletic, and Storey's got a great prototype as far as body, a big, long, lean guy that
could run."
Wagner is also excited to work with Passmore, the three-time Offinsive Lineman of the Year in North Carolina. His footwork and talent also make him valuable to this recruiting class. Additionally, the Flames also added another quarterback, J.T. Bradwell, who they believe has a great chance to start in the future.