International students gather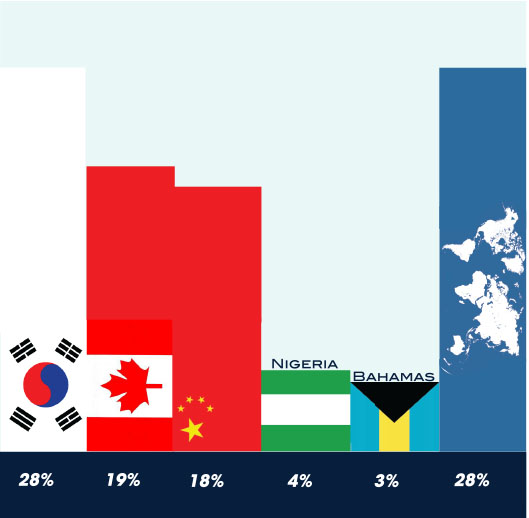 Newcomers observe cultural differences as they get accustomed to life in the United States
Each semester, Liberty welcomes students from all over the world and helps these students settle into what is often a new way of life.
According to Kristina Bautista, operations assistant and health insurance representative at the International Student Center, there are currently 973 international students enrolled residentially at Liberty, and of those students, 102 are new this year.
According to the report, there are 275 Korean students at Liberty, which makes up the largest percentage of international students. Canada had the second-highest number with 181 students. China was close behind with 102 students, leaving Nigeria (35 students) and the Bahamas (24 students) in fourth and fifth places, respectively.
Bautista said that international students come to Liberty for a wide variety of reasons. The Christian environment and large international population are only two of the deciding factors.
Another reason international students come to Liberty is because they know other internationals here, according to Bautista.
One such student is Ignacio Pereyra, who is from Bolivia. Pereyra attended an international high school accredited by the Network of International Christian Schools. After graduation, he and a few fellow classmates came to Liberty.
Originally from La Paz, Bolivia, Pereyra had never lived in the U.S. until his freshman year of college.
"I love it here," Pereyra said. "Really, really, really love it."
He was quick to add, however, that he did not particularly care for the winter weather. He was not used to below-freezing temperatures.
Pereyra also said that South American culture is much more open in comparison to the culture of the U.S.
"It's all based on feelings — even business," he said. "If you like someone, then you do business with that person."
Pereyra added that the food here is also different. Bolivian food is based mostly on meat, potatoes and corn. It is also much more organic, adhering to a simple "grow it and eat it" philosophy.
Leettitia Jean Paul, a student from Haiti, also cited food as a major difference between the U.S. and her home country.
"Everything there is full of spices," she said. "Personally, I think food in America is bland. It's good, but food in Haiti has more taste."
Jean Paul came to Liberty at the urging of her mother, who wanted her to attend a Christian university.
"At first, I didn't really like it because everything was just so different," Jean Paul said. "But now I love it. I know it's cliché, but this is the best school ever. I don't think I'd ever go anywhere else."
Jean Paul said that people in the U.S. are nicer and more generous than people in Haiti. Her home city of Port-au-Prince, the capital city of Haiti, is extremely fast-paced. She said she much prefers the quiet of Lynchburg.
"Everything there is go, go, go," Jean Paul said. "Here, everyone is chill and takes time to say hello."
While she misses her family back in Haiti, Jean Paul said that the best thing about being in the U.S. is the number of opportunities.
Though they are far away from home, Bautista said that the international students she knows all have a good experience at Liberty.
"They have very positive reactions to the environment academically, socially and spiritually," Bautista said.
Bautista advised American students to keep an open mind when interacting with international students and try to ignore any preexisting stereotypes.
Pereyra also asked American students to realize that internationals will eventually run out of stories.
"What seems impressive to you is normal to us and vice versa," he said. "Don't expect to be awed every time."